Take It Outside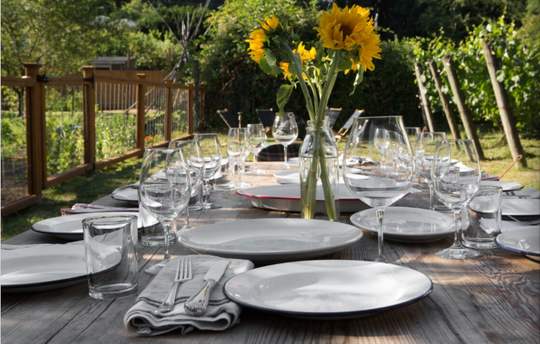 Elias and Michelle Cairo, siblings and Olympia Provisions Co-founders
Growing up Cairo, any day that ended in "y" was an excuse to share our table
with family and friends. And when the days got hot, the table came outside
with us. Not much has changed - we still think warm weather is all the reason
you need to invite a few friends over, fire up the grill, and crack open a few bottles.

The key to keeping it fun for the host? Gorgeous, simple food that requires little
more than a quick chop or a few minutes on the grill. Let seasonal produce,
Here, we're sharing our favorite summer menu that's so easy,
you don't even need recipes.
Sommelier, Wine Director of both our NW & SE restaurants, and maker of beautiful natural wines, Jessica Hereth is our first call for any and everything juice in the OP universe.
While you can't buy the wine she makes from the old vines in her backyard (yet!),
she's sharing her knowledge here. 
"Rather than stressing about proper food and wine pairings with
causal summer get togethers, we love a smorgasboard of easy drinking
summer wine with dinners like this. Filling the table with dry rosé from Provence,
acid driven whites, and light bodied reds (which we throw on ice) will allow you to
mix and match all flavors and food. Melon salad with rosé? Check! Roasted corn
and riesling? Oh yeah! And a chilled Beaujolais or light bodied red with
grilled meatand trout? Gimme Gimme!
~
Some of our favorites right now: 
~

Insider tip: ask your local wine shop for wines from some of our favorite national
importers like Kermit Lynch, Louis/Dressner, and Vom Boden for
guaranteed deliciousness!"
Make dinner even easier on yourself:
Have our 
landrauchschinken
and sausages shipped right to your
door.