The Campfire Cookout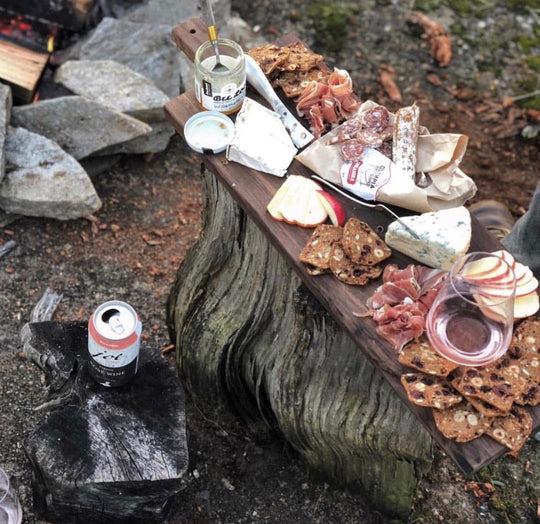 Here in Oregon, Memorial Day Weekend kicks off the best time of the year. School is almost out, Summer has arrived and camp sites are officially open. From Trillium Lake to Nehalem Bay State Park, Oregon is full of beautiful campgrounds just waiting for people to share with their families. At OP, camping doesn't mean peanut butter sandwiches and chips. We go all out! So do our friends; authors Jen Stevenson and Marnie Hanel, authors of The Campout Cookbook, a guide to preparing delicious food in the wilderness. In honor of the upcoming camping weekend, we thought we'd share some of their scrumptious dishes that pair perfectly with OP Sausage! Grab your tent, sleeping bag and your favorite refreshments, and we'll cover the dinner plans. Check out what's on the menu below!
There's nothing quite like curling up next to a warm fire with a hearty and decadent meal. Obviously we start out with a charcuterie board, but up next on the menu is another favorite from our restaurants. Jen & Marnie put a twist on the oh-so-famous beer cheese from Olympia Provisions Public House. The Middle-of-Nowhere Mac 'n' Beer Cheese is perfect over an OP Frankfurter, but happens to also be decadent with some macaroni. Prep the beer cheese ahead, melt loads of butter in a cast-iron skill over the campfire, and voile! You're off the grid and eating like royalty.
Now, is it really a camping trip without some fire grilled franks? Although hot dogs are the American classic for a night in the wilderness, we think our sausages provide a more nutritious, tastier option to keep your energy up for the long weekend. Pack up some bratwursts, a few kasekrainers and don't forget your sauerkraut, then all you'll need is some wood and a match to grill them to perfection. 
To wrap up the meal, we've got Green Chile and Cheese Cast-iron Cornbread on the menu. Although the poblanos add a nice kick, you can skip the heat and opt for fresh kernels of corn. Jen and Marnie suggest broiling the poblanos at home and mixing the dry baking goods in a plastic bag beforehand, then mixing everything together at the campsite. Be sure to pack your 10-inch cast-iron Dutch oven, a whisk, measuring cup and mixing bowl, then let the campfire do the rest!
Last, but definitely not least, are the sweets. S'mores are a must out in the woods and Jen and Marnie take their s'mores game to the next level. From marshmallow filled Oreos, to ginger snaps with coconut flakes, they really have outdone themselves. Get The Campout Cookbook to see the rest!