Thanksgiving the OP Way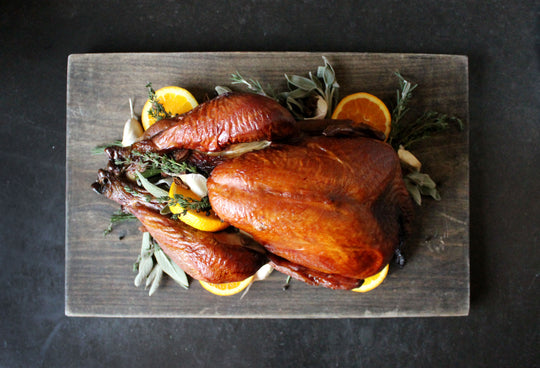 It's that time of year again. The leaves are falling, temperatures are dropping, and football is on (almost) every night of the week. Most importantly, a Turkey dinner is in order! Here are our five tips to make this Thanksgiving the best one yet.
1. Wow your guests when they walk through the door. And there's no better way to do that than with an epic charcuterie spread! In the Fall, we love to add lots of bold flavors to our spread. From funky cheeses to sweet fruits, vibrant flavors are the perfect way to warm you up as the temperatures drop. Our current favorite pairing: Saucisson Aux Noisette with pears.
2. Don't forget the ham. Believe it or not, not everyone loves Turkey. Add a Sweetheart Ham to the menu to mix things up.
3. Step up your side game. Two of our favorites are Sweet Potatoes with Salchichon and Italian Sausage Stuffing.
4. Wine all around. Mix and match your favorite everyday wines with the variety of foods on the table. According to our Wine Director, Jess, her favorite undiscovered gems for a Thanksgiving feast is Gewurztraminer.
5. More pies than people. To ensure the night goes perfectly, make sure your pie to people recipe is on point. And by on point, we mean at least 1.5 pies per person. 
Don't want to cook this year? Let us take care of it for you!