Recipe | Sweet Potatoes with Salchichon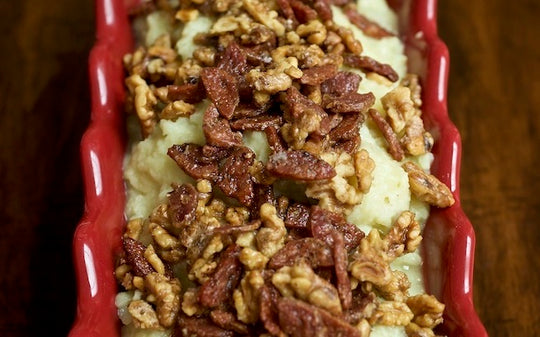 It's hard to believe it is already time to think about what we're serving for Thanksgiving. In our world, the food & drink is the centerpiece at Thanksgiving. Forget the decor, we fill the table with food and flavors that brighten the room on their own. Every year we look for new ways to step up our side dish game. And this year, kicking it up a notch with these Sweet Potatoes Topped with Salchichon. Get the key ingredient for 10% with code SALC18 through 11/30.
INGREDIENTS
4 sweet potatoes, peeled and chopped into 1-inch chunks
2 cups of milk
1-star anise seed
1/4 tsp of nutmeg
pinch of cayenne
Salt to taste
4 tbsp of butter
The Topping
1/2 stick of Salchichon, casing peeled and sliced into half moons
3/4 cup of toasted walnuts
1 tbsp of butter
DIRECTIONS
Boil sweet potatoes in salted water until they are super tender, then drain.
While the potatoes are boiling, heat 4 tbsp. of butter, milk, star anise seed, cayenne and nutmeg in a separate pan until the butter is melted. Once the butter is melted, allow the mixture to sit for about 3 minutes over low heat.
After the sweet potatoes are finished boiling, rice them or put them through a food mill.
Remove the star anise seed from the milk and butter mixture, then incorporate it with the potatoes until you have a nice even texture. Add salt to taste. Once everything is mixed evenly, put it all in an oven safe serving dish and put it in the oven to hold.
Just before serving, heat up the remaining tablespoon of butter in a small saute pan. Once butter is melted, add the Salchichon and heat over low heat for about 5 minutes. Once the Salchichon is crisp, add the toasted walnuts and coat evenly in the melted fat.
Take the sweet potatoes out of the oven, evenly distribute the Salchichon bits and the remaining fat over the top and serve!