Recipe | OP Italian Sausage Stuffing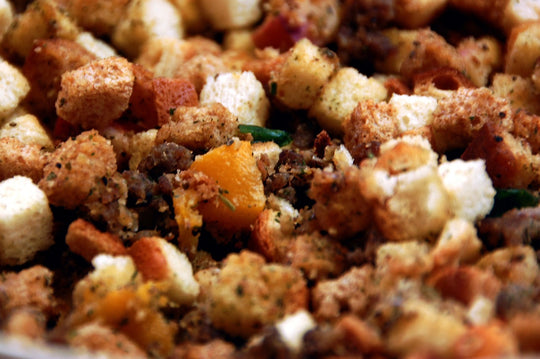 1 1/4 cups cubed whole wheat bread
4 cups cubed white bread
6 Links of OP Italian Sausage (1.5 packages- or all of it if you like a lot of sausage)
1 large onion chopped
2 celery stalks chopped (3/4 cup)
1 tablespoon chopped fresh sage
1/2 tablespoon chopped fresh rosemary
1/2 tablespoon of chopped fresh thyme
1/2 tsp of salt
1/4 tsp of pepper
1 apple, cored and chopped
1/2 cup dried cranberries
1/4 cup chopped flat leaf parsley
3/4 cup turkey stock
4 tablespoons unsalted butter, melted
Preheat oven to 350 °F. Place the bread cubes in a single layer on a large baking sheet. Bake for 5 to 7 minutes in the preheated oven, or until evenly toasted. Transfer toasted bread cubes to a large bowl.
In a large skillet, melt butter, add the onions and celery on medium heat and cook until it starts to brown (about 10 minutes). Add the Italian Sausage and break up until evenly browned. Add the sage, rosemary, thyme, salt, pepper; stirring, for 2 minutes to combine flavors.
Pour sausage mixture over bread in bowl. Mix in chopped apple, dried cranberries, and parsley. Drizzle with turkey stock and mix lightly.
Transfer mixture into a baking dish, cover with foil, and bake until an internal temperature is 160°F, about 40 minutes.