Recipe | OP Chorizo Sandwich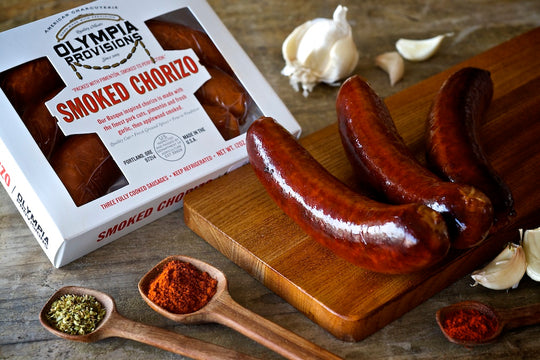 Not that I ever ate this sandwich in Spain, but I would put some solid money down that it would win the heart of many a hungry Spaniard- even more so if we could smoke cigarettes inside the restaurant...while eating.
This recipe makes 4 sandwiches.
4 Ciabatta rolls, halved
1/2 cup aioli
8 thin slices manchego cheese
8 piquilli peppers, julienned
2 cups arugula
Olive oil
Lemon juice
Maldon salt, to finish
1. Warm the rolls.
2. Heat a griddle or skillet over high heat, and then sear the chorizo cut side down until hot throughout, about 4 minutes. 
3. Slather the top and bottom of each roll with 1 tablespoon of aioli and lay two slices of cheese on each bottom half. Place two sausage halves on top of the cheese and layer with a portion of piquillo peppers and arugula. Drizzle with olive oil and lemon juice and sprinkle with Maldon salt. Cover with the top half of the roll.