Recipe | Thanksgiving Sides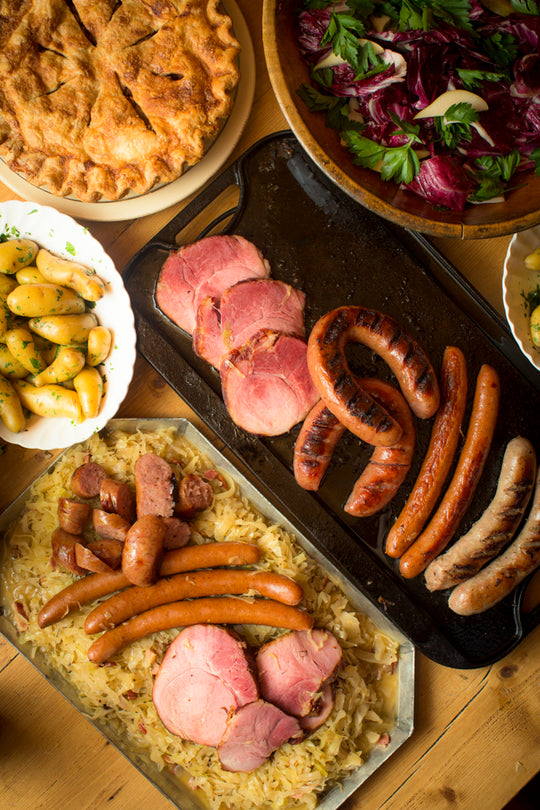 From Culinary Director Eric Joppie comes a smattering of sides to complete your table. Add a Sweetheart Ham to the mix and you've got yourself a full Thanksgiving feast for the family. 
Italian Sausage and Foraged Mushroom Stuffing
Any sausage can be used for this, in fact our breakfast sausage, with its maple and sage seasoning, would be perfect too. Use any variety or mix of foraged mushrooms you like, and cut or tear them into bite size chunks after washing and drying. Use day old bread if possible, but if you are in a hurry you can dice fresh bread and dry it out on a cookie sheet in a 250F oven for about 20 minutes.
Serves 4
Ingredients:
3 Italian sausages, large dice
2 Tb bacon fat, or olive oil
1/2lb mixed foraged mushrooms (chanterelles, lobster, porcini, etc), washed
1 ½ cup celery, small dice
1 ½ cup onion, diced
3 eggs
1 Tb chopped fresh sage
12 oz (about 4 cups) day old bread, diced
4 tablespoons butter
4 cups chicken broth
2 teaspoons salt
Method:
Heat your oven to 350F. Set a dutch oven over medium high heat. Add the bacon fat or olive oil and brown the diced sausages for about 3 minutes. Add the cleaned mushrooms and sauté until they have released their juices and begin to brown. Add the celery and onion with 1 teaspoon of salt and cook for about 4 minutes or until just translucent, then stir in the sage and remove from the heat. Allow this mixture to cool to room temperature. Whisk together the eggs, chicken broth, and remaining salt. Put the bread in a large bowl and pour the stock mixture over, and add the sausage/mushroom mix as well and stir everything together. Pour the stuffing mixture into a well seasoned cast iron skillet or a sprayed 13x9" casserole dish. Cut the butter into ½" cubes and distribute over the top of the stuffing. Bake, covered with foil, for 20 minutes. Remove the foil and continue cooking until a toothpick inserted in the center comes out clean and the top is golden brown. This can be made ahead of time and reheats well.
Herb-Roasted Root Vegetables
Cut the vegetables in large dice; roughly 1" pieces. The larger size and hot oven really ensure that you get the browning we like for roasted roots. 
Serves 4
Ingredients:
½ lb carrots
½ lb parsnips
½ lb turnips
½ lb new potatoes
½ bunch sage, about 1.5 Tb chopped
½ bunch thyme, about 1 Tb chopped
1 Tb salt, or to taste
1 tsp fresh cracked black pepper, or to taste
⅓ cup extra virgin olive oil, or as needed 
Method:
Heat your oven to 450F. Once hot, put 2 cookie sheets in the oven and allow them to heat for about 5 minutes. In a large bowl, add the carrots and parsnips and drizzle to coat well with the olive oil. Season with half the salt, pepper, and herbs and toss well to coat. Carefully remove one cookie sheet and pour the vegetables on; they should sizzle as though they've been added to a sauté pan. Working quickly, shake the sheet to distribute the vegetables evenly in a single layer and return the tray to the oven. Roast for about 10 minutes, or until your desired tenderness. Do not turn or stir during roasting. Repeat this method with the potatoes; toss with the seasonings and herbs and add onto a hot cookie sheet. Roast for 10 minutes. Meanwhile, toss the turnips with the remaining seasoning and herbs. After the potatoes have roasted for 10 minutes, remove the pan and add the turnips, shaking the pan to distribute as before. Finish roasting the potatoes and turnips together for 10 minutes more. Transfer the warm vegetables to a serving platter and serve. These are best served hot from the oven but can be roasted in advance and reheated just before serving.
Mashed Potatoes with Giblet Gravy
As with all Thanksgiving foods, the preparation of mashed potatoes is varied and subject to strong opinions. We prefer ours smooth and rich, which is accomplished by using a food mill or potato ricer. You can use a stand mixer or mash by hand if you prefer, you'll just end up with a different texture. They'll still be delicious! We are guided by the method of Joel Robuchon for pommes puree, which famously incorporates equal parts butter by weight into the potatoes. We don't go quite that heavy, but believe that the flavor comes from the additions and that mashed potatoes aren't meant to be a diet food! The drier the potatoes, the more you can add flavor, so we prefer to roast them. However, this requires peeling while they're extremely hot, so we provide a method here for simmering then steaming that works well too. If you want to try roasting, add in a couple extra potatoes 
Serves 4
Ingredients for the Gravy:
¼ lb butter
¼ lb all-purpose flour
1 quart rich stock, preferably turkey
½ bunch sage
1 Tb olive oil
¼ lb chicken livers
2 tsp salt, or to taste
¼ tsp black pepper
½ tsp sugar
1 tsp sherry vinegar
Ingredients for the Mashed Potatoes:
4lbs Yukon gold potatoes
2 Tb salt
¾ lbs butter
1.5 cups buttermilk
1 cup sour cream
1 Tb salt
Method for Gravy:
If there are any dark spots on your chicken livers cut them away, and trim away any heavy sinew between the lobes. Place them on a plate lined with a paper towel, and season with 1tsp of salt. Allow the seasoning to absorb while you make the gravy. Melt the butter in a sauce pot over medium-high heat, then add the flour and whisk until the roux is thick and bubbling. Add the stock 1 cup at a time, whisking well and bringing the mixture to a boil before adding the next cup. Stir in the chopped sage and season with the remaining 1 tsp salt and the pepper. Turn the heat to low and let the gravy simmer while you sear the chicken livers. In a sauté pan over high heat, add the 1 tablespoon of olive oil. Pat the livers as dry as possible, then add them to the pan once the oil begins to lightly smoke. Sear the livers on one side until well browned, then toss or stir them once and immediately return them to the plate; they should be rare. Chop the livers coarsely and add to the gravy. Finish seasoning the gravy with the pinch of sugar and vinegar. Keep this warm and serve, or refrigerate and reheat just before serving. 
Method for Mashed Potatoes:
 Peel the potatoes if you prefer. We like to keep the skins on for the nutrients, and most come out in the ricer anyway. Either way, wash the potatoes and cut them into roughly 2" pieces. Place in a pot large enough to hold them amply, and cover with cold water. Add the salt (it seems like a lot but remember you're going to pour it off at the end) and bring to a boil over medium high heat. Once the reach a boil, reduce the heat and simmer very gently until they are tender when pierced with a knife. Drain them in a colander and allow steaming for about 5 minutes. If you want them even drier, you can transfer them to a sheet pan and place in a 300F oven for about 5 minutes. Cut the butter into 1Tb pats and place your food mill or ricer over a sauce pot. Add the potatoes to your ricer or food mill and add a couple pats of butter at the same time. Ricing the potatoes and butter together ensures even distribution. Work in batches until all the potatoes are processed. Place the pot over medium heat and slowly stir in the buttermilk, whisking to incorporate. Gently stir in the sour cream, taste for seasoning, and serve.
Cranberry Citrus Relish
This method is remarkably easy and results in a tart, chunky, slightly bitter relish. Perfect to cut through the richness of the rest of this meal!
Makes 2 cups, about 4 servings
Ingredients:
1 bag (12oz) fresh cranberries
1.5 cups sugar
Zest of 2 oranges 
1.5 cups orange juice (from the 2 oranges, plus a little more)
½ tsp salt
One cinnamon stick
Combine all ingredients in a sauce pot and stir well. Place the pot on medium-high heat and cook until it comes to a boil, then reduce the heat and simmer until all the cranberries have popped and the sauce has thickened slightly, about 15 minutes. Transfer to a serving dish and chill. This can be made well in advance and freezes beautifully!