Recipe | Shrimp and Mussel Stew with Chorizo Navarre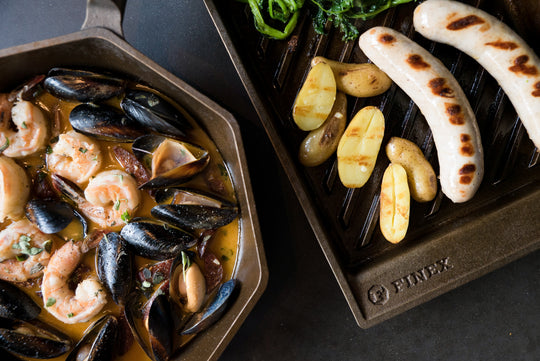 We partnered with FineX to bring our favorite Spring recipes to life! Recipe by Alex Yoder.
This recipe serves four
What you need:
¼ cup olive oil
5 oz. OP chorizo Navarre halved and cut crosswise into 1" lengths
½ tsp crushed chilies
1 Tbs. minced garlic
¼ cup dry white wine
1 cup chicken stock
2# mussels purged and debearded
12 medium shrimp peeled and deveined
4 Tbs. unsalted butter
1 Tbs. roughly chopped oregano
Salt, pepper, and lemon juice to taste
Crusty bread for serving
Instructions
Season the shrimp on both sides with salt and pepper.

In a pan large enough to hold all of the mussels, combine the olive oil and chorizo and cook over medium heat until the fat has begun to render out of the chorizo (About 4 minutes).

Remove the pan from the heat and let cool 30 seconds. Add the crushed chilies and garlic and stir to combine.

Return the pan to the heat and add the white wine and chicken stock. Bring to a simmer and add the shrimp, mussels, and butter. Cover with a lid and cook, stirring occasionally and flipping the shrimp over if necessary until the mussels have steamed open and the shrimp are cooked (about 5 minutes).

Add the oregano and season with salt, pepper, and lemon juice to taste. Divide between four bowls and serve with crusty bread.