Recipe | Fondue (it's not queso)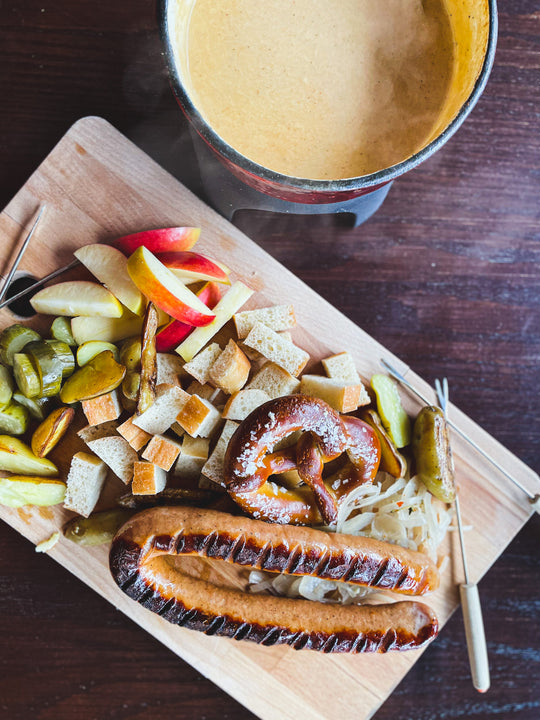 Is there anything better than melted cheese? We think not! This is melted cheese done traditionally, with a blend of raclette, emmentaler and gruyere. Make sure to crisp up a few sausages, slice some apples and cube up your favorite bakery's bread.
Ingredients:
300g Mixed Grated Swiss Cheeses (Emmentaler, Gruyere, Raclette)

240g Spiced Wine (White Wine, Lemon Juice, Salt, Smoked Paprika, Black Pepper, Nutmeg)

Kirsch Slurry (10g Corn Starch, 28g Cherry Brandy)

A Garlic Clove

240g Boiled Fingerling Potatoes

1 ea (12oz) Olympia Provisions Kielbasa

120g Olympia Provisions Pickles

1 Fuji Apple

Grand Central Bakery Bread, diced

House-Made Soft Pretzel Bites
You Will Need:
Heavy Bottom Sauce Pot (preferably 1.5 or 2qt)

Whisk

Medium Hot Grill, or 10" Saute Pan

Oven Heated to 350F

Lots of Forks!
Prepare all your dipping ingredients
Grill the kielbasa until golden brown and piping hot, then keep warm on a cooler part of the grill. Alternately, place your saute pan over medium high heat and add a tablespoon of vegetable oil. Saute until golden brown and piping hot, then turn the heat to low and keep warm. Meanwhile, dice the apple about ¾". Put the potatoes on a cookie sheet and warm in the oven until hot, about 5 minutes, then transfer the potatoes and the pretzel bites to the grill/pan next to the kielbasa to keep warm. 
Prepare the Fondue

Thoroughly rub the inside of your sauce pot with the garlic clove, then discard it. Add the spiced wine and bring to a boil over high heat. Boil briefly (about 45 seconds) to burn off the alcohol, then add the cheese all at once. Lower heat to medium high, and whisk continuously until cheese is completely melted. Stir the kirsch slurry (it tends to settle) until well mixed, then add to the cheese sauce. Stir well until the mixture comes to a boil again, then reduce heat to low. 
Start the Party!
Place the pickles, apples, bread, and all your warm ingredients on a large platter. Bring the fondue pot to the table and set on a trivet. Start dipping! Remember that this is traditional fondue and will need to be stirred frequently while you are enjoying. If it cools down and starts to set, just return to the stove on medium heat and whisk vigorously until it is warm again. Most importantly, HAVE FUN!