Recipe | Pork Pistachio Pâté Sandwich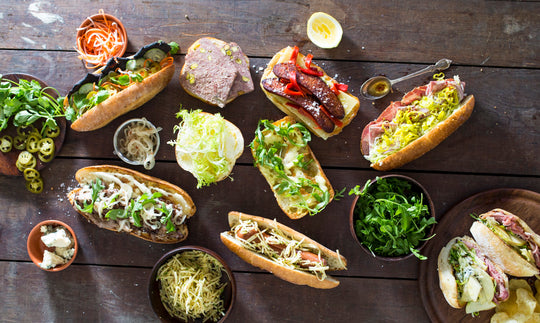 This sandwich celebrates the simple yet decadent combination of bread, butter, and pâté. 
Makes 4 Sandwiches
Ingredients
Extra virgin olive oil
4 kaiser rolls, halved
2 cups (35 g) frisée
1 tablespoon minced shallot
3 tablespoons minced chives Lemon juice
Maldon salt
Ground black pepper
1⁄2 cup (115 g) unsalted butter, at room temperature 1⁄4 cup (60 ml) Dijon mustard
1 pound (450 g) Pork Pistachio Pâté
Instructions
1. In a large nonstick skillet over medium heat, heat a little olive oil. Working in batches, toast the cut side of each roll until golden, about 3 minutes. Let cool completely.
2. Meanwhile, in a bowl, combine the frisée, shallot, and chives and season to taste with olive oil, lemon juice, salt, and black pepper.
3. Spread 1 tablespoon of butter on the toasted side of each kaiser roll half and sprinkle with Maldon salt. Spread 1 tablespoon of mustard on each bottom half. Divide the pâté evenly among the bottoms, and then do the same with the frisée mixture. Cover with the top half of the rolls and cut each sandwich in half.
Recipe from the Olympia Provisions Cookbook. For more like this, order one today!