Recipe | Mussels and Chorizo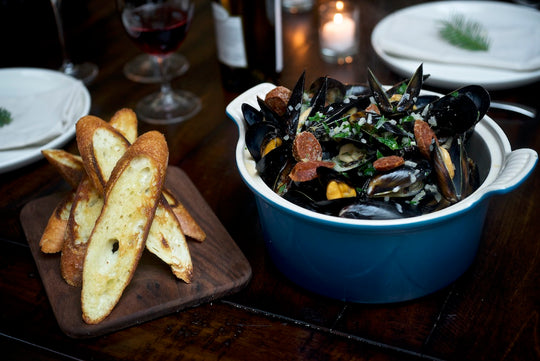 Ingredients
1 lb. Mussels bearded and cleaned
1/2 stick Chorizo Andalucia peeled and cut into half moons
1 shallot, diced
1 cup hard dry apple cider
1/4 cup creme fraiche
2 tbsp. of tarragon, chopped
3 tbsp. of butter
Toasted bread
Instructions
Heat a 12-inch saute pan on medium heat. Once warm, add the Chorizo Andalucia to the warm pan and cook until they release about a tsp. of oil, about 2-3 minutes. Then add the shallots and cook until they are translucent, about 2 more minutes, be sure the shallots do not brown.
Once the shallots are cooked, add the mussels and cider to the same pan and cover. Turn the heat up to high and cook until the mussels have opened up, about another 3 minutes.
Using tongs, plate the mussels in a bowl, and keep the cider and other ingredients in the pan and reduce for about a minute. Remove from heat and stir the creme fraiche, butter, tarragon and salt to taste. Then pour the reduction over the mussels and serve.