Recipe | Manila Clams with Smoked Chorizo, Padron Peppers, and Garlic Toast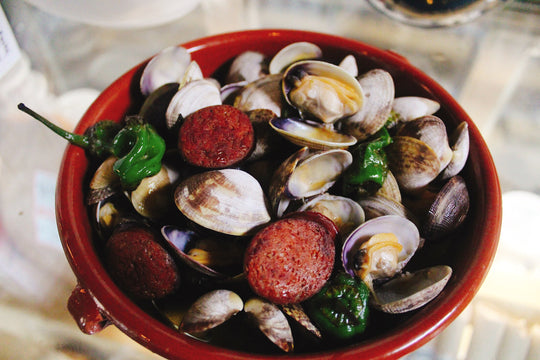 Olympia Provisions' Culinary Director Eric Joppie is back again, this time with a fall favorite! This is a great adaptation of a classic Iberian combination using our delicious Smoked Chorizo sausage and Oregon produce. Just a few ingredients and you have a fast and crowd-pleasing dinner! Use this dish as a template, and have fun experimenting with different shellfish (mussels, shell-on shrimp, or even bay scallops work great) or types of peppers. If your clams are not pre-soaked (ask your fish monger), you may need to purge them by soaking them in cold water with a little semolina flour for an hour, then draining and rinsing well. Drink a crisp white wine or amontillado sherry.
Ingredients:

8oz padron peppers
1 teaspoon kosher salt
12oz (3 links) Olympia Provisions Smoked Chorizo, cut into ½ coins
2lbs small manila clams
½ cup plus 2 tablespoons good olive oil
1 cup White wine
2oz (half stick) unsalted butter
1 Baguette
2 large garlic cloves
Method:
For the peppers
Turn on your broiler. Use a large dutch oven or heavy-bottomed sauce pan. Place it on the stove over high heat and add the ½ cup olive oil. When the oil is lightly smoking, add the padron peppers, season with the salt and toss well to coat peppers. Allow peppers to blister (get very dark) on one side. Stir the peppers once, reduce heat to medium. 
For the chorizo
After blistering the peppers reduce heat to medium, add the chorizo to the pan. Brown on both sides, then return pan to high heat.
For the clams
When the pan is very hot, add the clams and stir well. When the heat in the pan has recovered, add the white wine and butter and cover the pan. Allow to steam until all the clams have opened.
For the bread
Cut the baguette on a strong bias into 8 slices about 6 inches long. Drizzle or brush one side of the bread with the remaining 2 tablespoons olive oil and broil until golden brown and crispy. Rub the crispy side of the bread with the garlic cloves.
To serve
Divide the contents of the pan evenly among 4 wide shallow bowls and serve with 2 garlic toasts on the rim of each bowl. Serves 4 as a light entrée or large appetizer.