Recipe | Holiday Kielbasa with Roasted Root Vegetables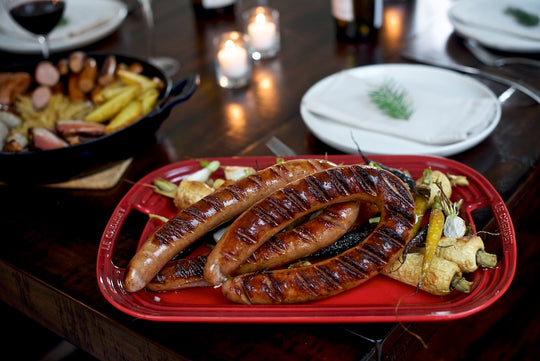 Ingredients
1 Holiday Kielbasa
1.5 lbs of mixed roasted root vegetables (roast and salt ahead of time)
5 tbsp butter
¼ cup mustard
2 tbsp of chopped Italian parsley
Instructions
In a large pan over medium heat, melt 1 tbsp of butter. Once butter is melted and evenly distributed all of the pan, brown the Holiday Kielbasa on both sides.
Once browned, add the roasted vegetables and stir to evenly coat in the smokey fat that comes from the sausage.
Once warm, remove from heat and add the Mustard Butter Sauce and mix. When the vegetables are fully coated, place everything on a large platter, serve and drink with everything in sight!
Mustard Butter Sauce:
In a small pan, mix 4 tbsp butter and a ¼ cup of whole grain mustard over medium heat. Mix until it all melts together. Once melted, add chopped Italian parsley and mix.