Halloween Party Platters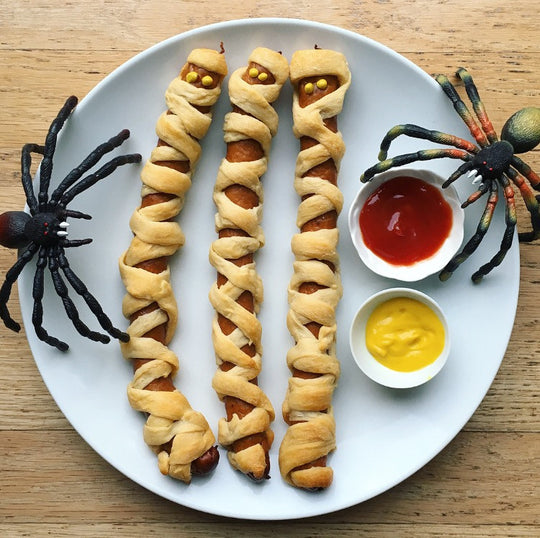 Fall is here, and so are some delicious snacks for the kids and the adults during your Halloween or Fall festivities. Easy to assemble, rich in protein, and great for snacking, our party platters will please the whole gang. 
Halloweenies
Halloweenies are sure to delight everyone! Mummify your high-quality frankfurters and give the kids a spooky snack before they head out trick-or-treating. Or, make for your adult friends because...uh... we like finger foods and a theme, too!
Ingredients:
2 cups (220 g) all-purpose flour,  plus extra flour for rolling
1⁄2 cup (120 g) cold unsalted butter, diced
1⁄2 teaspoon fine sea salt
1⁄2 cup (120 ml) cold water
1 tablespoon  heavy cream
2 Packs of Olympia Provisions Frankfurters
1 Combine the flour, butter, and sea salt in the bowl of a food processor and pulse until the butter is the size of peas. Add the water slowly while pulsing until the dough comes together. Turn the dough out onto a work surface. Shape it into a rectangle, packing it tightly, and wrap with plastic wrap. Refrigerate for 1 hour.
2 Line a baking sheet with parchment paper. Sprinkle a little flour on your work surface. Using a rolling pin, roll the chilled dough into a 12-inch by 12-inch (30-cm by 40-cm) square. Cut into ¼ inch strips and wrap around the frankfurter to give it a mummy-like appearance- leave room for some eyes at the top.
3 When ready to bake the Halloweenies, preheat the oven to 350°F. Bake Halloweenies on the baking sheet for 15- 20 minutes, or until golden. Take a tooth pick and dip in mustard and make the eyes.  Serve with spooky condiments!
The Autumn Alsace Board
Saucisson d'Alsace provides the foundation for your fall charcuterie board. This Alsatian pub-style salami is flavored with clove, nutmeg, allspice and cinnamon - giving it a total fall flavor profile that holds up nicely to an Oregon Pinot Noir or a bright and bouncy Gamay. Round out your board with some pickles, olives, apples and those last summer peaches. Add a couple delicious hard cheeses to stand up to the spices and round out the board. 
A great addition to your Halloween/Fall party vibe, so the parents can snack on some treats while the kids go looking for candy!