Feijoada for Family Meal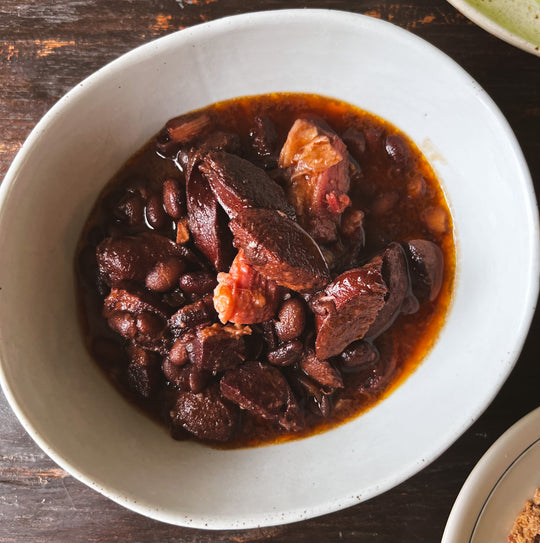 Chef Katie Roe uses this go-to Brazilian recipe (from Coppa Cafe Chef and mentor Paola Fioravanti) to feed the Southeast team for family meal. Hearty, with a sense of DIY to the final presentation, it is the ultimate feed-the-masses dish based on building a ton of flavor from the ground up. Include some orange wedges like Chef does, for that extra soccer-mom vibe. 
For 8-10
Ingredients:
½ cup Olive Oil
.5lb Bacon- lardon size
8 cloves Garlic-minced
1 whole Yellow Onion- minced
1.5lbs Dried Black Beans-soak overnight
3 cups Chicken Stock 
2 ea Dried Chili - guajillo 
.5lb Chorizo Andalucia- ½ moons
1lb Smoked Fresh Chorizo- ½ moons
1 Smoked Ham Hock
Salt
Red wine Vinegar
Garnish:
Sliced sweet oranges
Farofa
Rice
Sauteed cabbage
Directions:
In an 8 quart pot render the bacon with the olive oil over low heat until bacon is crispy. Add the minced onion and garlic, sweat until tender, sweet and very aromatic. Add the strained soaked beans and toast until hot to the touch. 
Pour in the stock and add the dried chili, Chorizo Andalucia, chorizo and ham hock. Simmer until the beans are tender and meat is falling off the ham hock. 
Remove the dried chilis and bone from the hock. Season with salt and vinegar. 
Pass around the orange slices and top your feijoada with cabbage, farofa and rice!