Recipe | Maple Glazed Holiday Ham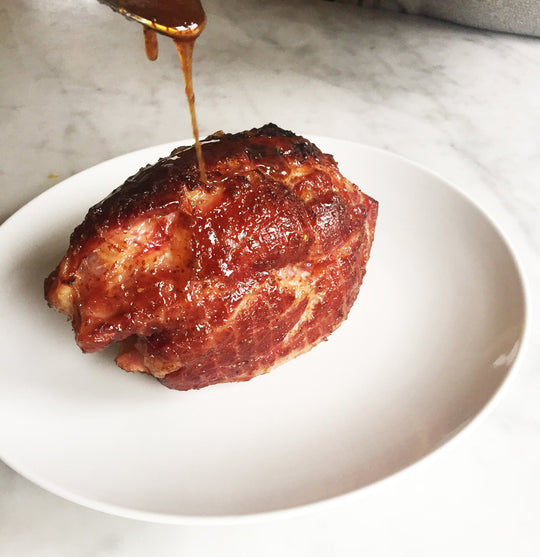 We love ham at OP and this recipe is a sure way to delight your guests!
Ham Preparation
1
OP sweetheart ham
1 ½ cup of water
Glaze Preparation
½ cup maple syrup
½ cup brown sugar
½ cup water
2 tablespoons of Dijon
3 cloves
1 tsp cayenne
Pinch of salt
1 tablespoon of flaky sea salt
Preheat oven to 375
°F.  Place 
ham into a baking dish or pan that is deep enough that you can cover or with aluminum foil. Bring the 1 ½ cup of water to a simmer in a small pan and pour it into the baking dish. This is to give you a jump start on the cooking time. Cover the whole pan with aluminum foil. Allow to bake for 1 hour checking it at the ½ hour mark to make sure that there is still plenty of water. 
Make the glaze while the ham is in the oven.  Combine maple syrup, brown sugar, water, Dijon, clove, cayenne and a pinch of salt into a small nonstick sauté pan and stir really well together using a wooden spoon. Place the pan on medium heat and reduce the mixture by half stirring occasionally. This should take about 10 minutes. Once reduced by half keep it on the stove top with the heat turned off.
After an hour or until the internal temperature inside reaches 120
°F, 
remove the ham from the oven and turn on the broiler.  Remove the aluminum foil and allow the steam to escape allow your ham to rest for 5 minutes. If there is water left in the pan dispose of it.  Glaze your ham using a spoon and about 2/3 of the glaze trying to get it all nicely and evenly coated. Place it into the over under the broiler for 4 minutes. The ham should finish with a nice sticky crust on the outside.  Remove the ham from the oven and place on a serving platter pour the rest of the glaze on top and sprinkle generously with flaky sea salt before serving.  ENJOY!