Recipe | Bratwurst Gravy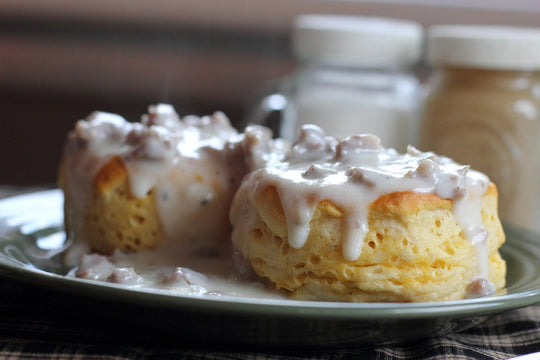 Bratwurst Gravy
What can we say? We love gravy. Classic white cream gravy can be a way to make almost anything palatable 
– 
or quite delicious, actually. At OP we are lucky enough to serve gravy on tender, yielding biscuits instead of hardtack, but it makes even those better too. Of course, the use of OP bratwurst and some slightly advanced techniques make this gravy better than your grandma's.
Makes About 1 Quart
1/4 cup (60 ml) rendered bacon fat
1/4 cup (50 g) unbleached all-purpose flour
1 lb (455 g) bratwurst forcemeat
1 quart (1 liter) whole milk, plus extra milk if reheating
1/2 teaspoon sweet paprika
1/2 teaspoon cayenne
1 1/2 teaspoons coarsely ground black pepper
Kosher salt
1. In a small pot over low heat, melt the bacon fat. As it begins to liquefy, slowly whisk in the flour until thoroughly incorporated. immediately remove from heat. Using a spatula, transfer the roux to a container and place in the fridge. Keep it there until it's good and solid, 20 to 25 minutes.
2. While the roux is cooling, heat a heavy medium-size pot over medium heat. Add the brat forcemeat to the pot. Using a wooden spoon, stir the forcemeat until the fat starts rendering and the forcemeat begins to brown, about 10 minutes. Remove from heat and drain, discarding the fat. 
3. Remove the roux from the fridge and pop it out of its container. Cut it into Ping-Pong ball size pieces. Add the milk to a large pot and bring to a simmer over medium-high heat. Whisk the roux into the milk piece by piece, adding the next as soon as the previous one dissolves, whisking the whole time. The roux will bring down the milk's temperature, so the simmer will stop.  When all the roux pieces have been added, bring the roux back to a simmer. Turn down the heat to low. Whisk occasionally, until you have a rich and savory flavor and the taste of flour is gone; this will take 10 minutes. Add the forcemeat, paprika, cayenne, pepper, and kosher salt, stirring to incorporate. Serve the gravy right away, or let cool and refrigerate in an airtight container for up to 10 days.
4. To reheat, pour 1/4 cup (60 ml) milk into a medium pot. Using a wooden spoon, stir the cold gravy into the milk in four or five additions. Set the pot over low heat and allow the gravy to warm through while stirring occasionally, 5 to 6 minutes.