Perfect Summer Menus for Indoor Meals and Outdoor Entertaining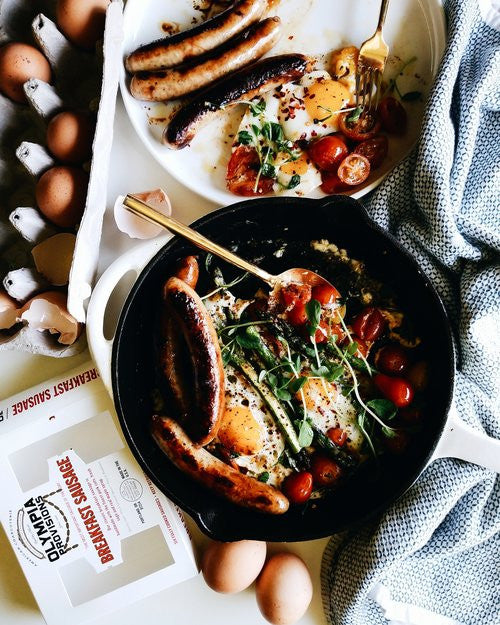 We are thrilled to have the inimitable Kari Young, aka @meatballssmama, here for a guest post on Summer Entertaining. Read more from her at meatballssmama.com and follow her adventures on instagram. 
One of the best things about the early summer season in Portland is the weather. When the sun comes out it's the perfect excuse to fire up the grill or pack up a picnic lunch and head outside. Anytime I can, I try packing a snack or something salty to nibble on when I head out the door. This summer I'll be obsessing and eating as much Olympia Provisions charcuterie and frankfurters as I can. An extra bonus is starting the day with their line of Breakfast Sausages that are so full of flavor and "snap" like the delicious frankfurters that I adore.
I've learned over the years that there is no substitute for a good old backyard dinner on a summer night and I love to serve a grilled Hot Dog spread -- it's one of the simplest and quickest ways to have dinner ready for friends and family. And the best part? Offering a variety of toppings makes this classic food even more delicious. My preferred method of cooking up my OP Frankfurters is on the grill where I can crisp up the skin and create that delectable char on the outside. But if the weather isn't cooperating (which is common in Portland) I'll get out my cast iron and sear my dogs on very high heat. And serving tip? Pick up some plastic baskets at a party or dollar store, line them with parchment or newspaper and you have a cool way to serve your dogs with the easiest clean up ever.
When I have a lazy day off, we're hanging out at home or if we're heading out to the beach or a park OP is my first choice for charcuterie. If you know me at all I am sucker for a charcuterie and cheese plate and I don't believe in making it very time consuming or complicated to throw together. The beauty of their salamis is the selection. OP Salamis (French, Italian, Spanish) are robust, rich and scrumptious. They make the ultimate meat snack and require so little for an appetizing meal. Some crackers, pungent and sharp cheeses, briny olives, some pickles and maybe some fresh veggies or fruit make the perfect accents to OP meats.
A quick lunch is minutes away and it's the prime reason I try and keep OP pate, pork liver mousse and rillettes stocked in my fridge – after a quick trip to the pantry or if I'm lucky to the local farmer's market, I can put together a salad, a relish plate or a variation on the classic "petite assiette de charcuterie".
To learn more about assembling your own beautiful charcuterie platter, try these simple tips and ideas and remember PERFECT PRESENTATION IS BORING The most important thing to remember is that assembling a board or plate should be simple and is totally the cook's choice. Use as little or as much as you want on your board and design and plate it however you want. My tips are just ideas and I always recommend you try your own style and implement your own taste preferences with any dishes you make at home. It's great to use photos and recipes as guides but have fun with your creations and make it your own!
1.       Choose an oversized platter or woodblock (or cutting board) for service.
2.       Use fresh, seasonal fruits and vegetables to create interesting shapes and colors – they're also the best accompaniments to the salty meats and cheeses.
3.       Serve cheeses in wedges or "whole" so friends and family can cut off as much or as little they like. If you do cut up cheese, break it off in rough crumbles for texture and visual impact.
4.       I like incorporating local greens and fresh herbs if I can. It's a great accent and is something that adds fragrance and color.
5.       Slice up meats but leave some whole so you can wrap up any leftovers and the salami won't dry out. Don't worry about perfect slices and rings. I like to make them a little "chunkier" and cut them oblong.
6.       Display cornichons, pickles and other garnishes in a variety of ramekins (they don't have to match!) – and using ones of different sizes, shapes and materials is ideal.
7.       Don't worry about everything being perfectly lined up or plated immaculately. A good charcuterie is rustic and soulful and is all about the meat.
8.       If you're serving crackers or sliced baguette place them throughout the board or platter or serve on the side in a basket or several small bowls.