Recipe | Party-Ready Pickle Galette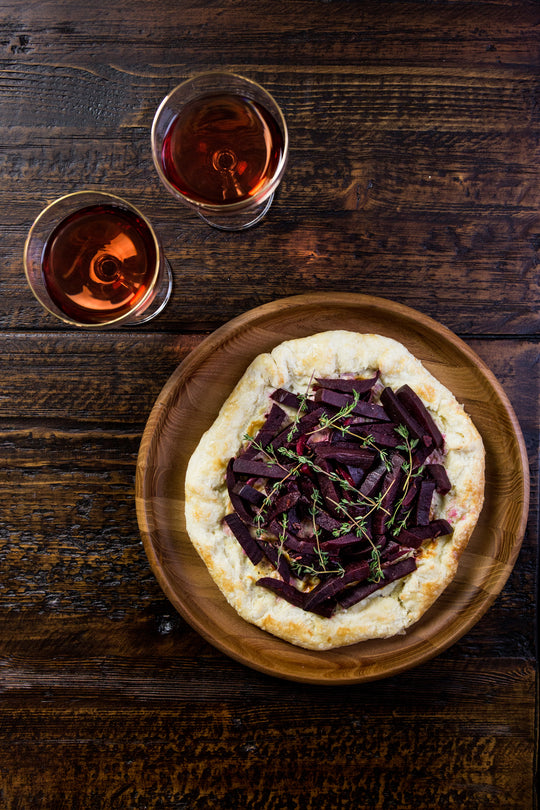 All of Olympia Provisions pickles are made by our Master Pickler, "Pickle Joe". When we moved, we transformed the original OP meat department located in the back of Olympia Provisions SE into a pickle paradise for him! 
From August through October, Joe is brine-ing around the clock to preserve the latest harvest. From hearty beets and carrots to delicate fennel and celery, Joe makes the ultimate vinegared vegetables to suit your needs. 
Joe's pickles are so delicious, we think they deserve center stage. May we suggest you have a cocktail party? Pour a few whiskey sours, put on some classy tunes, and serve wedges of this Pickled Beet Galette. The rich goat cheese plays off the bright, earthy beets beautifully - and it feels fancy but comes together quickly.

Ingredients
1 single-crust pie dough
4 oz goat cheese
2 eggs
3+ Tablespoons Heavy Cream
Fresh Thyme
Pickled Beets
Olive Oil for drizzling
Start with your favorite single-crust pie dough recipe (for Galettes, we love Lindsey Shere's, found here). While it's chilling, preheat the oven to 350F.
Roll the dough out into a round, and place on a parchment-lined baking sheet.
Combine 4 oz of goat cheese with an egg, 3 Tablespoons heavy cream, chopped thyme, and salt and pepper to taste. Add a little more cream if it's still crumbly. 
Cover the crust with the filling, leaving a 2-inch edge, and then fold that rim over, all the way around, creating a rustic, free-form tart.
Brush the crust with beaten egg, and bake until the whole thing is golden and crisp, around 30 minutes.
When the galette is cool, drain a jar of our pickled beets and cover the goat cheese filling.
Finish with a drizzle of olive oil and sprigs of fresh thyme.