Build the ultimate summer charcuterie board with your dad this Father's Day!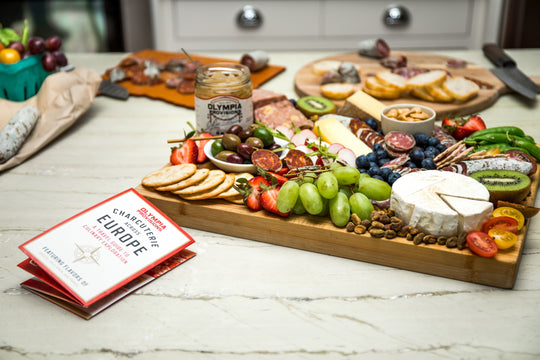 This Father's Day, when you give your dad the gift of meat, you are also setting yourself up for doing something together on the big day! Bring him a Salami Bouquet, or maybe a European Sampler, and then put together a beautiful spread highlighting the best of summer for the whole family to enjoy! Check out everything you need to build the ultimate Summer Charcuterie Board!
THE MEAT: we love to have a variety of meats on every board, spicy Chorizo Rioja with our classic Saucisson Sec, and Pork & Hazelnut Pâté for a different texture.
THE CHEESE: make sure to balance textures on the cheese. We suggest a soft Brie Fermier to enjoy alongside our Saucisson Sec and delicious Manchego with our Chorizo Rioja.
FRESH FRUIT: choose whatever your local market has, whether that's strawberries, apples, or peaches. Fruit adds a touch of sweetness to a typically savory spread!
THE CRUNCH: every charcuterie spread needs something crunchy, but don't get stuck to crackers and nuts here! While we definitely will have those on our summer spread, you'll also see sugar snap peas or radishes that both offer crunch and balance to our hearty meats.
THE ACID: you always need a little acidity to cut into the rich flavors from the meats and cheeses, which is where our pickles come in! They offer a little bite and balance to the entire board.