A Tea Party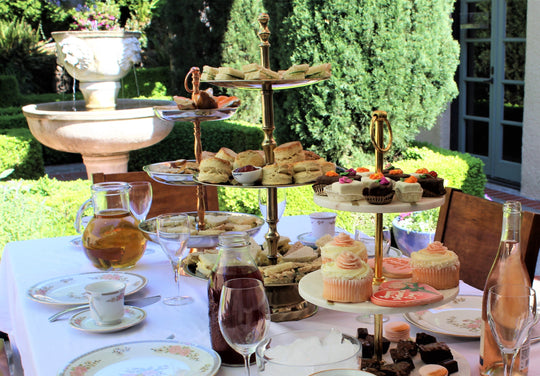 Founder, Michelle Cairo, loves to entertain and created this special Tea Party Menu for a party she had at her home.  Enjoy!
Sweetheart Ham Tea Sandwich
½ cup butter
¼ cup Dijon
½ lb. Sweatheart Ham
¼ lb. brie cheese, sliced
1 large Honey crisp or Fuji Apple, thinly sliced (on mandolin if you have one)
3 Pretzel Rolls or 8 Slices of Bread
Combine butter and Dijon, and spread on each slice of bread. If using bread- cut off the crusts from each slice of bread or if you are using pretzel rolls thinly slice. Divide the ham, brie, and apple between 4 slices of bread. Top with remaining 4 slices of bread.
Chorizo & Egg Salad Tea Sandwich
6 hard boiled eggs, peeled, chopped
6 Tbsp. celery, finely chopped
6 Tbsp. shallot, finely chopped
4 tsp. Dijon mustard
4 tsp. lemon juice
1/3 cup mayonnaise
1 loaf bread, crusts removed
1/3 of a Chorizo Rioja sliced a thin as you can or if you have an old salami that has hardened- use a microplane to zest over the egg salad
Place chopped hard boiled eggs, celery, shallots, dijon mustard, lemon juice, and mayonnaise in a medium bowl; mix well.
Cut white bread into pieces and spread with the egg salad. Top Serve!
English Cucumber Tea Sandwich
1 English Cucumber, thinly sliced
8 slices bread
1/3 cup of unsalted butter
1 tsp of fresh mint
salt and pepper
Use a mandolin or slice cucumber in to paper-thin rounds. Salt rounds lightly and place in colander for 15 minutes to drain. Press to release water; pat dry with paper towels. Spread sliced bread with softened butter. Put 2 layers of cucumber slices on bottom slice, sprinkle with finely chopped mint, salt and pepper to taste, and top with another buttered slice. Press lightly with palm of hand. Cut all crusts off with a sharp knife. Cut sandwiches in half diagonally and then again into quarters.
English Scones
2 cups all-purpose flour
3/4 tsp salt
1/4 cup sugar
6 tbsp unsalted butter, at room temperature
2/3 cup whole milk
1 large egg
Strawberry jam
Preheat the oven to 425 degrees F. In a food processor, pulse the flour, baking powder, salt, and sugar a few times to combine.  Add the butter and pulse 10 times until the butter is completely distributed. There shouldn't be any chunks of butter, and the mixture should have a sandy texture to it. Transfer to a large mixing bowl. In a small bowl, whisk to combine the milk and egg. Save 2 tbsp of it for the egg wash later, and pour the rest into the mixing bowl with the dry ingredients. Stir to combine with a spatula, until a rough dough forms. Transfer to a lightly floured countertop and knead about 10 times until the dough comes together into a relatively smooth ball. Take care not to knead too much, or the dough will be tougher and not rise as high. Roll the dough about an inch thick and use a 2.5″ cutter to cut about 7 circles. Re-roll the scraps and cut out another 2. Place the scones onto a parchment and brush the tops with the reserved egg wash. Bake the scones for 13-15 minutes, until about tripled in height, and golden brown on the tops and bottoms.
For the dessert tray... Michelle doesn't consider herself a baker so she goes to a fabulous patisserie and get petit fours and all sorts of sweats to complete the Tea Party!
Pinky's UP!