We drink pink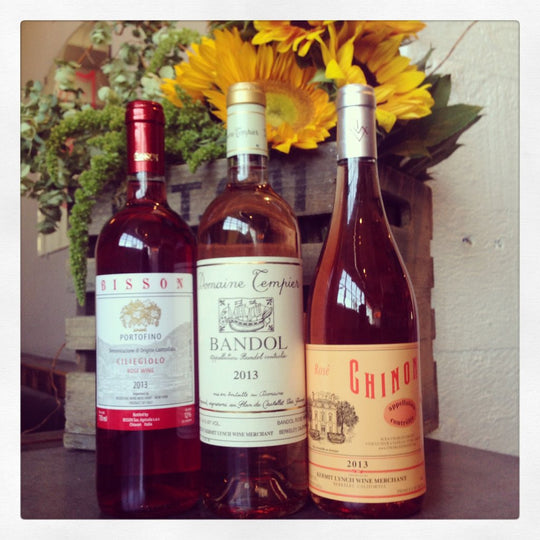 The ever growing popularity of dry rosé in the wine world is remarkable. We here at OP happen to love rosé (and not just in the summer), so why not talk about a few of our current favorites?
Just arrived today is the
Bisson Portofino 2013 rosé
. Portofino as in Liguria, as in the oft used Italian restaurant name, or better yet as in the song! A deceptively dark crimson hued rosé, it's both lusciously flavored of wild berries and red cherry, and also remarkably saline and a just a touch herbal (fresh cut basil?) The man behind Bisson is Pierluigi Lugano who fell in love with the wines of Liguria in the late 70's. He is both a wine maker and a wine merchant, and is better known as the man who
aged prosecco under the sea
! While is ocean aged Abissi can definitely do some damage to your wallet, a crisp glass of this rosé is just what you need everyday! You too can find love in Portofino!
Another soft spot we have is for the Domaine Tempier Bandol rosé, of which the new 2013 vintage just arrived. It's stunning this year, really. Last year it was a note off, like a flat note on the guitar, but this year it's just hummmmming. It's probably not even necessary to talk about Tempier Bandol rosé because EVERYONE talks about it and it seems to have quite rightly become the ring leader in the provencal rosé gang. We'll just say that you need to be drinking this now.
Last but not least, I can't help but mention the Charles Joguet Chinon rosé. It holds a special place in my heart, though I won't delve into why. Made from 100% cabernet franc it's flavor is unlike most rosés you'll come across. Notes of under ripe strawberry, cranberry, white pepper, and lavender it is bright and crunchy, like fresh red fruits. It's also a delicious foil to our salty meaty pork rillettes, or dangerously drinkable on it's own. What's not to love about wine from the region that Rabelais himself championed?