New, Awesome, and Delicious!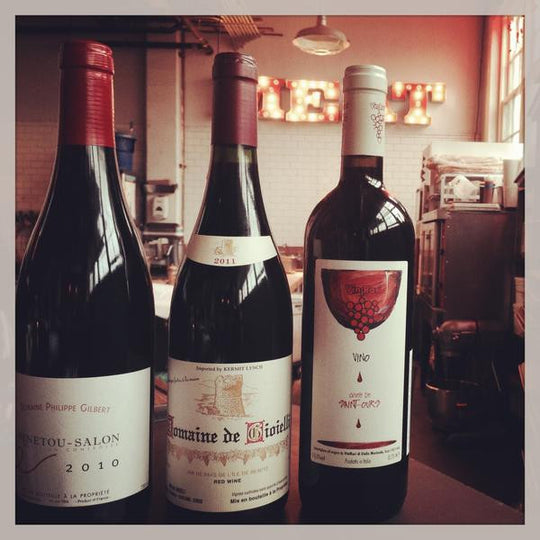 Today I thought I would highlight three lovely off the beaten track red wines newly added to the menu at Olympia Provisions Southeast. They are from family run wineries that respect the environment, the wine making process, and provide extraordinary values. The first is the ethereal delicate pinot noir from Domaine Philippe Gilbert. This 2010 Menetou-Salon is from France's Loire Valley, and while French pinot noir may be most at home in Burgundy, the Loire Valley is also capable of producing some stunning elegant examples. Menetou-Salon is on the eastern end of the Loire, just southwest of it's prestigious neighbor Sancerre, and like Sancerre is known for it's production of crisp sauvignon blanc and delicate pinot noir. Menetou-Salon has a long history of wine making, dating back well over 1000 years, so it's no surprise Domaine Philippe Gilbert was first established long ago in 1768. Today the domaine is one of the largest in Menetou-Salon, which at 67 acres is quite small by the standards of many. Despite it's size, it's does not sacrifice quality for quantity, with all vines farmed biodynamically and grapes hand harvested. The 2010 rouge from Gilbert is elegant and bright, with red cherry, red currant, and fresh wet spring leaf notes. It's the ideal accompaniment to our French charcuterie, roasted chicken, and the crisp fresh vegetables of spring.
Next up is the Domaine de Gioielli Rouge Vin de Pays de l'Île de Beauté 2011 from the French island of Corsica. It's not only a mouthful to pronounce the wine properly, but also to drink. Hailing from Cap Corse - a sparsely populated peninsula at the northern point of the island - the wine is made from Niellucciu, Aleatico, and Merlot. The origins of Niellucciu are uncertain, but it is most likely identical or closely related to Tuscany's Sangiovese. It is common in Corsica where it is the predominant variety in the red wines of Patrimonio. Aleatico is a highly aromatic variety thought to be related to Muscat and more commonly found in Italy, particular on the island of Elba. Merlot is the girl next door. Domaine de Gioielli (Gee-oh-Elly is my best pronunciation) was founded by Michel Angeli of Corsica, who moved to a forgotten piece of country land to avoid the bombardments of World War II. The land had been originally built several centuries prior by a Genovese who named it "Gioielli" or "Crown Jewel" in his dialect. Today the domaine is still tended solely by the aging Michel, and we can only hope there is an heir or friend to continue on his great wine making tradition. The first time I tasted this wine it tasted as though Provence and Burgundy had a love child. The finessed cherry driven and elegant nature of pinot noir is balanced by notes of summer herbs, black cherry, and hot stones. Remarkable, truly remarkable, and the perfect accompaniment to a wide array of lighter meat dishes, rich fish dishes, and our cured Coppa.
Last but not least let me introduce to you Vini Rari Cuvée de Saint-Ours from Italy's Vallée d'Aoste. The Vallée d'Aoste (or Valle d'Aosta in Italian) is a French-Italian region in the northwest corner of Italy, butting up the French and Swiss Alps, making it no surprise that many of the grapes that grow here also grow in Switzerland's Valais. Vini Rari is composed of indigenous Vallée d'Aoste grapes cornalin and fumin and is made by university professor Giulio Moriondo. He makes about 200 cases per year and as far as I know these wines are only available in Italy and the Pacific Northwest. The vines grow on steep rocky terraces perched at over 2000 feet in elevation, making hand harvesting an absolute necessity. The wine is rich and plush with an iron like background note that makes me think of wild game birds raised in brushy sage land. Notes of blackberry, plum, oregano, and black pepper tell me that this is a great alternative for lovers of Syrah. This wine demands rich meats like our braised beef short ribs and Italian charcuterie board!
DOMAINE PHILIPPE GILBERT Menetou-Salon | Pinot Noir | Loire 2010 48.
DOMAINE DE GIOIELLI VDP Île de Beauté | Niellucciu, Merlot, Aleatico | Corsica 2011 53.
VINI RARI Cuvée de Saint-Ours | Cornalin, Fumin | Vallée d'Aoste 2011 77.
All of these wines are currently available in limited supply at our Southeast restaurant. Prices listed are for consumption in the restaurant, but we discount all bottles 25% for takeaway purchases.