Recipe | Olympia Old Fashioned at OPSE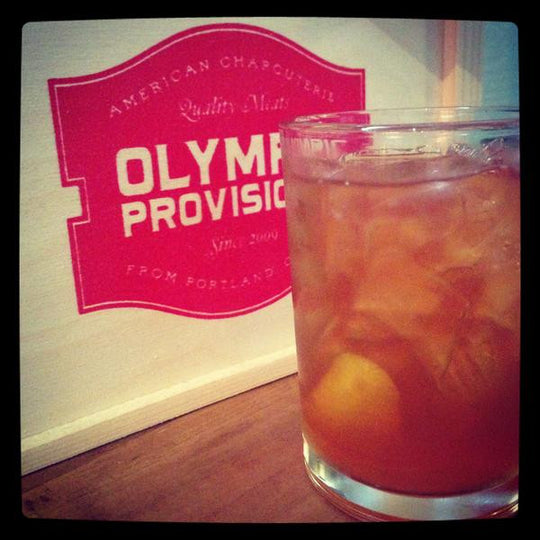 The Old Fashioned Cocktail has a storied past. Put simply, the name itself comes from the late 1800's when bartenders began referencing a cocktail recipe commonly used earlier that century where the primary ingredients were spirits, bitters, sugar, and water. They called it "old-fashioned" because they were referring to an old fashioned cocktail concoction. Over the years we've seen many incarnations of this wonderful cocktail: from the original recipe of dissolving a sugar cube in water, adding Angostura bitters, a lemon peel, whiskey, and an ice cube to more elaborate concoctions such as the version that became popular in the 1990's with a muddled maraschino cherry and orange slice. No matter what recipe they use, most bars will offer up some version of an Old Fashioned. At our Southeast restaurant we enthusiastically will make a traditional Old Fashioned, but our menu always features our house rendition which falls somewhere between the original-ish version and something completely new and different thanks to the addition of one of our favorite beverages: sherry.

to make 1 cocktail you will need:
2 oz bourbon or rye (we use Buffalo Trace Bourbon in our house version)
1/4 oz sherry honey (see recipe below)
2 dashes Angostura bitters
2 dashes Fee Brothers Grapefruit bitters
1 lemon peel
1 orange peel

Expel oil from lemon and orange zest into bottom of rocks glass, press gently with a muddler 2 or 3 times. Add sherry honey and bitters, then bourbon or rye. Add ice to fill glass, stir for 15 seconds, top again with ice.

Simple does it in this cocktail. And delicious too. If you don't feel like making it at home, come into the Southeast restaurant and order one! (hint: they are only $6 if ordered off our mid day menu between 3 and 5pm Tuesday - Sunday!)

Sherry honey
This is the secret weapon in our Olympia Old Fashioned. We use local Oregon Wildflower Honey and delicious-on-it's-own La Cigarerra Manzanilla sherry. Any dry fino or manzanilla sherry should give delicious results.
1 oz honey
1 oz sherry
1 oz (volume, not weight) of white sugar
2 oz water
Heat all ingredients over low heat until fully dissolved. Store in fridge.