How to Host: The Perfect Memorial Day Grill Out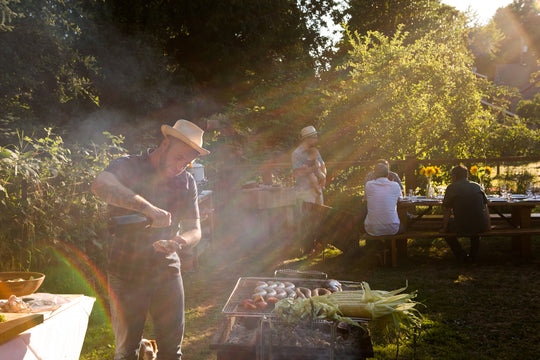 We're a week and a half out from Memorial Day weekend and that means one thing: summer has arrived. And what better way to celebrate longer days and warmer weather than a grill out with all of your closest friends? Well, today we're going to share all the ingredients, games and fun that goes into a typical OP Cookout. Scroll down for some serious inspo, or just click here for the most important part of any cookout. Either way, we're giving you two free coozies with any sausage purchase with code FREECOOZIE. Happy summer!
THE SNACKS
In our world, there's no party without charcuterie. Summer charcuterie calls for fresh berries, Summer Sausage, soft cheese and a little extra spice in the form of Chorizo Andalucia (also May's Salami of the Month). Start the night off with a spread like this and you will definitely wow your guests.
THE DRINKS
From Willamette Valley wineries to Hood River breweries, we really do have it all in Oregon. So for a get together with our friends, we suggest a little bit of everything. For wine, our Wine Director, Jess Hereth, suggests a smorgasboard of summer wines, from chuggable rosés to a chilled Beaujolais. And in the beer department, there's nothing like an ice cold pilsner on a summer night.
THE TABLE
One of the best parts of summer entertaining is being able to eat outside. So when you are setting the table for your guests this summer, use what mother nature has to offer as decoration, whatever your garden has in bloom. Keep it simple and don't over crowd, the food is the real centerpiece after all.
THE DINNER
The main attraction of any grill out is what comes off the grill, obviously. And in our world, that means sausage. Lots and lots of sausage. From Kielbasa to Bratwurst, our sausage is perfect to enjoy in the summertime. (If you're looking to entertain a big crowd, we suggest our Sausage Fest Kit, it's got everything you need!) Although sausage on a bun is a summer classic, we like to grill a platter of our snappy sausage with lots of fresh and crunchy vegetables. And of course corn on the cob, because is it really a cookout without that?
THE FUN!
Most importantly, a cookout is about enjoying the sun in the company of your closest friends. A classic OP party usually ends with a bonfire and celebrity charades led by Michelle or ping pong match with Eli. No matter the game, it's always about good food and good friends. We hope your Memorial Day Grill Out is the best one yet! Don't forget, we're giving you two free coozies with any sausage purchase using code FREECOOZIE.