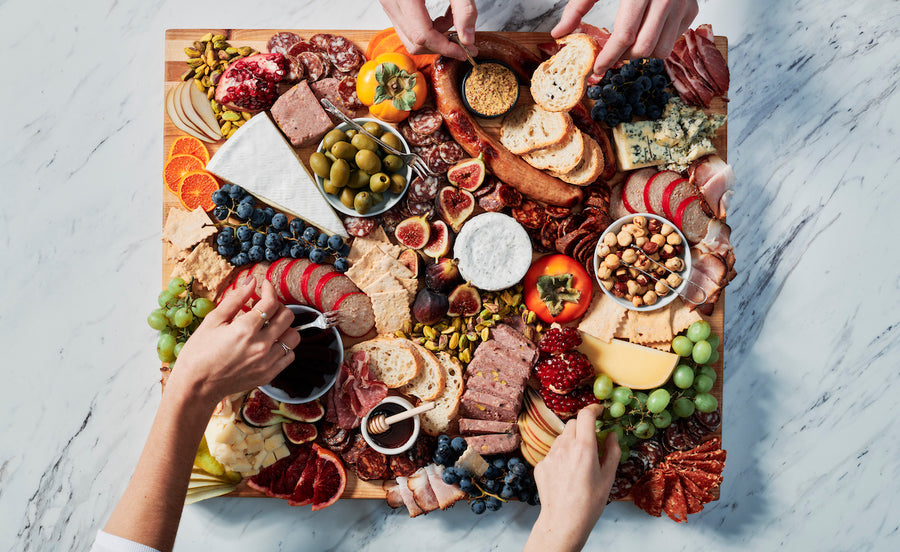 The Charcuterie Club
Our Charcuterie Club is the ultimate experience of premium American Charcuterie, featuring a variety of sausages, salamis and pickles from across our catalogue of quality pork products! Your membership not only earns you delicious food and free gifts, but also exclusive discounts and early access to new products all year long!
Your subscription ships every 4 weeks, and in each shipment you'll receive:
2 unique salamis (every quarter one of these salamis will be an exclusive salami)

1 jar of pickled vegetables (a perfect accompaniment)

1 pack of our traditional sausages (rotated through our 12+ varieties)
In addition, you'll also get one of the following perks every quarter:
A free curated artisanal cheese from one of our favorite producers 
A

n extra free goodie
Your first order will ship within 3-7 days of purchase, and we'll process all future recurring orders automatically. This is an ongoing subscription and your card will be charged automatically until cancelled. The quantity selected is the quantity of products you receive in each shipment. 
Purchase Options
${formatMoney(currentVariant.compare_at_price)}
${formatMoney(currentVariant.price)}
each
From
${formatMoney(activeSellingPlanAllocation.price)}
each
From
${formatMoney(productStartingFromLowestVariantAllocation(sellingPlanGroup.id).price)}
each
Each payment ${formatMoney(activeSellingPlanAllocation.price * currentQuantity)}
${activeSellingPlan.name}
- ${activeSellingPlanSavingsText}
Auto-renews, skip or cancel anytime
View subscription policy
Shipping info

Standard Shipping typically ships and arrives within 7 business days (all perishable products will ship within appropriate cold chain transit times and cannot ship over weekends or extended holidays)

2 day and overnight options available at checkout (please allow one business day for processing)