Recipe | Cassoulet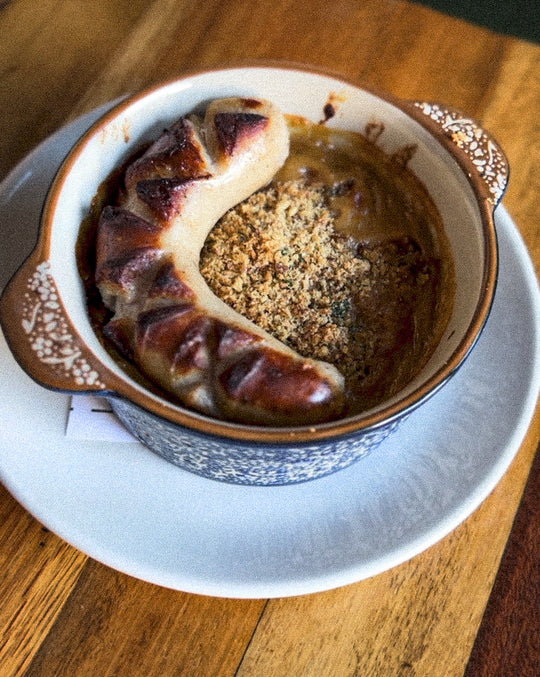 The perfect fall-to-winter meal, Cassoulet utilizes simple ingredients in a manner that allows them to sing. Beans are so underrated! Serve this with a few grilled Bratwurst, grilled steaks of OP ham, or smoked kielbasa, and top your beans with zest crumbs, fresh cracked black pepper and freshly picked thyme.
1 pound white beans, soak overnight 
80g Bacon, minced
1 cup Yellow Onion, small dice
1 cup Celery, small dice
1 cup Carrot, small dice
12g Garlic, mince
1/4# Butter
30g Olive Oil 
Salt and Red wine Vinegar
Directions: 
In large pot melt butter and olive oil together. Add bacon and render until crispy, add garlic and sauté until fragrant and just soft (you should be creating a golden brown fond as you go). Add your mirepoix and cook until just softened. Pour in your drained beans and toast until the beans are just too hot to hold. Add your stock and scrape any of the bottom fond into the beans. Cover with a cartouche and simmer for 3ish hours or until  beans are tender and creamy but hold their shape. Season with salt and red wine vinegar.
Breadcrumb: 
126g bread crumbs-
5g salt
TT ground black pepper
4g garlic- degermed and microplaned
5g lemon zest
5g chop parsley 
Olive oil- enough to coat
Directions: Mix all ingredients, sprinkle on top