National Salami Day is This Thursday, 9/7!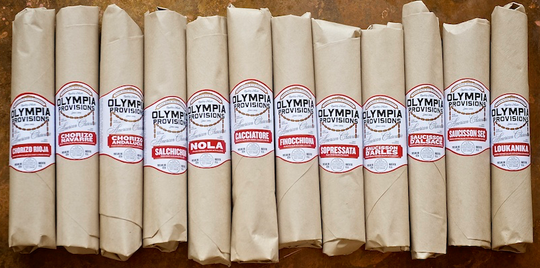 Whether back-to-school goodbyes have you weeping into your solitary cup of café con leche or whooping with joy, we've got the perfect pick-me-up/celebratory snack—September's Salami of the Month,
Chorizo Rioja
. Hailing from the Rioja region of Spain, this
spirited salami
is spiced with both smoked paprika and sweet pimentón de la Vera, fresh oregano, and plenty of garlic. It is tempranillo's soul mate, makes a very pretty pincho, and slips right into a saddlebag for horseback rides through the 
Ebro River Valley, among its many other virtues.
"One of my favorite coastal feasts is as simple as they come—steam fresh clams with Chorizo Rioja, sliced fennel, and white wine, then serve with a crisp green salad and baguette (and more wine, obviously)." 
Go big with your National Salami Day celebration this Thursday by hosting a glamorous champagne and charcuterie party (here are a few tips on building the best ever charcuterie board), or just sit in a quiet corner of the OP break room eating your weight in Loukanika and drinking retsina (à la Elias). But whatever you do, eat some salami! We'd like to help—add

any small or large format salami

to your order through 9/7, and 
get $5 off with the code
OPNATLSALAMI17
!