Recipe | Sweetheart Ham & Bean Soup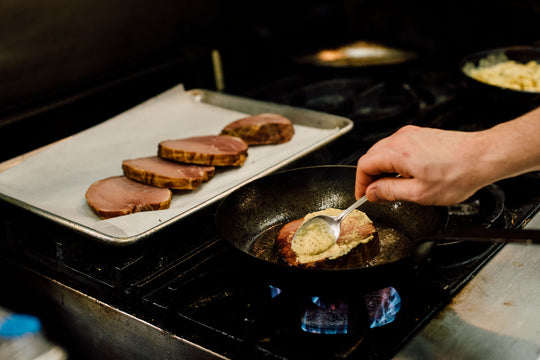 This recipe was created in partnership with pFriem Family Brewers. It pairs perfectly with the pFriem Vienna Lager. 
A note from the chef
"When I was growing up, my grandmother would make ham and bean soup that was perfect for this time of year. It was hearty, smoky, and warmed you through. This dish is my way of bringing a bit of my childhood to the table and showcasing the beautiful Olympia Provisions Sweetheart Ham. Enjoy it around the table with friends and family and a pour of pFriem Vienna Lager."
-Justin Congdon, Executive Chef at pFriem Family Brewers
Ingredients:
-1 Olympia Provisions Sweetheart Ham
-1 tablespoon unsalted butter
-1 each Sweet yellow onion, ¼" dice
-2 garlic cloves, finely minced
-1 cup dry Great Northern beans, soaked overnight in cold water
-3 cups chicken stock
-2 bay leaves
-1 teaspoon kosher salt
-1/4 teaspoon ground black pepper
-A few fresh sprigs of your favorite herb like thyme, rosemary, or sage
 Instructions
Trim about one half inch off each end of your Sweetheart Ham (keep the end pieces). Proceed to cut the rest of the ham into steaks, about ½ inch thick. Wrap the steaks you've cut and keep in the fridge until later.
Roughly chop the reserved ends of the ham into ¼ inch cubes.
Place a medium pot over medium heat and add the butter; heat until the butter starts to brown just a little.
Add the diced onions, minced garlic, and chopped ham. Sauté, stirring often, until the onions become slightly transparent and everything is browned.
Add the chicken stock, bay leaves, beans, herbs, salt, and pepper, stir to combine.
Bring the ingredients to a gentle simmer, then turn heat to low. Cover the pot tightly with foil and cook at a gentle simmer. This could take 1-2 hours, after one hour check every 15 minutes or so until the beans are tender. Once tender, turn off heat and let cool for 10-15 minutes.
While the soup rests, place a skillet over medium-high heat and add a little cooking oil. Sear the ham steaks, about 5-7 minutes on both sides, or until golden brown.
Serve the beans in a shallow bowl and put the ham steaks on top. Brush the ham with a bit of Dijon mustard right before serving, pour a crisp glass of pFriem Vienna Lager, and enjoy!
Tasting Notes
pFriem's copper-colored Vienna Lager is a malty symphony, with aromas of toasted bread and fresh toffee, accompanied by full notes of caramel, nuts and a crisp finish with a touch of malted sweetness.