Recipe | Sopressata Pizza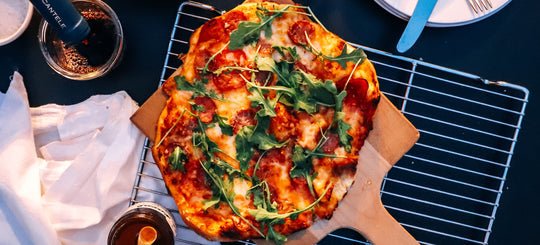 Our Sopressata is a classic Italian salami, sometimes referred to as the "salami of the people." So, when in Rome...eat pizza. Infused with warming clove, fresh oregano, freshly-chopped garlic, and a pinch of red chili flake, it pairs perfectly with provolone and mozzarella atop a thin, crunchy crust. Whether you're having a relaxing night at home with the family or inviting friends over for a night of fun and games, this Sopressata pizza is what you'll be wanting on one of the upcoming October nights.
INGREDIENTS
3 Tbs. olive oil
1 Sopressata, thinly sliced, casing removed
1/3 cup tomato sauce
2 small tomatoes, thinly sliced
1/2 cup arugula
1/2 cup parmigiano
1/2 cup provolone
1 large fresh mozzarella ball, thinly sliced
8 oz. pizza dough (homemade or store bought)
Honey (optional)
DIRECTIONS
Preheat oven to 475°
Drizzle 3 tablespoons of olive oil over a rimmed half sheet pan. Use oiled hands to press the pizza dough over the bottom of the half sheet pan, stretching the dough as thinly as possible without tearing it. Try to get the dough to reach into the corners and up to the edges of the pan. If the dough is fighting you, let it rest for 10 minutes then try again. The dough should be more relaxed at that point.
Once the dough is set, evenly spread tomato sauce across it. Sprinkle all of the provolone and the majority of the parmigiano over the pizza. Evenly distribute sliced tomatoes, mozzarella and Sopressata around the pizza.
Bake the pizza for 15-20 minutes, or until the crust is deep golden brown around the outside, the cheese is melted and bubbly, and the salami pieces have curled and are crisp on the edges. When ready, top with arugula and remaining parmigiano. Depending on your style, it is also delicious to drizzle the crust with honey!