Sausage Ssam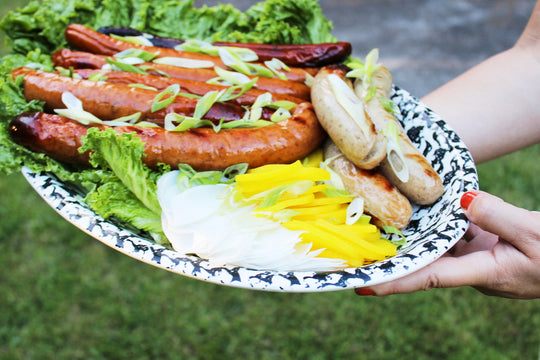 Recipe and photography from Kourtney Paranteau - find more of her recipes here. 
Grilling season is officially upon us and as I enter the world of dining with friends again, I'm especially empathetic to engage my gluten-free friends with meals where no modifications are made on their behalf.  Even the toasting of a bun on the same surface where communal grilled goods are cooked can trip up a true celiac's allergies.  So I (literally) cooked up a special sausage set based on Korean bossam for an entire party of meat eaters to enjoy.  
I swapped out the sliced pork with a bouquet of Olympia Provisions' sausages so that all you have to worry about is the ssamjang (a thick sauce similar to Korean BBQ sauce), plating your chosen wrappers, and (gulp) readjusting to social situations.
Ingredients: 
½  cup gojuchang 

¼ cup miso paste

2 tablespoon tamari (or gluten free soy sauce)

1 tablespoon sesame oil 

2 tablespoon raw honey 

2 teaspoon rice vinegar 

2 scallions (both green and white parts), thinly sliced

4 garlic cloves, finely chopped
Mix the above ingredients in a small bowl until completely combined.  As your sausages cook on the grill, plate a bed of red leaf lettuce on a large tray.  For extra texture include rice papers and Korean pickled cucumbers (pictured) and serve with kimchis and your other favorite banchans.