Recipe | Herby Croque Madam with Sweetheart Ham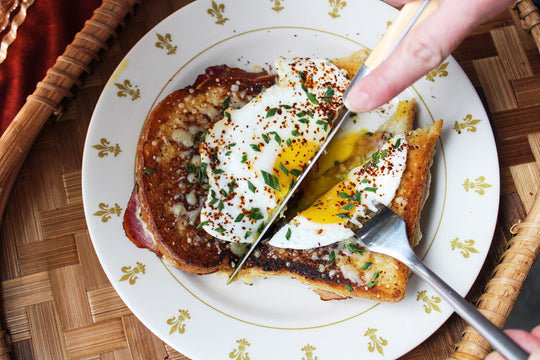 For this Mother's Day we wanted to make the only dish we could think of that's feminine version is larger than its male-counterpart.  The Croque Madame and Monsieur, date back to early 1900's France, and the only difference between sandwiches is that the Madame wears a sunnyside egg as its crown or bonnet.  Our version, just like the mother's we know, has a little kick to it and gets a thick spread of a chimichurri-pesto between its slices to cut through the fattiness of the bechamel and Sweetheart Ham.  
Serves 2 
Chimichurri spread:
3 garlic cloves

¼ packed up cilantro

¼ cup packed parsley 

1 tablespoon pepitas (or pumpkin seeds)

¼ cup good olive oil 
In a food processor or blender, combine all of the above ingredients and blend until spreadable but still textured.  Set aside. 
Bechamel:
3 tablespoon unsalted butter 

1.5 tablespoon all purpose flour

1 cup whole milk

1.5 cup gruyere, grated
In a medium saucepan heat butter over medium heat.  Once melted, whisk in flour until it slightly browns.  Pour milk into the roux and quickly whisk.  Slowly sprinkle and mix in melting cheese until you have a thick sauce and reduce heat to low.  
Sandwich: 
4 slices Japanese milk bread (I pick up a load of Oyatsupan's perfectly fluffy and absorbent loaf almost every week) 

4 slices Olympia Provisions Sweetheart Ham 

2 tablespoon unsalted butter

¼ cup shredded gruyere 

2 large eggs

1 tablespoon vegetable oil

1 tablespoon chives 

Salt 

pepper
On two slices of bread, spread chimichurri over the entire surface, followed by a generous dollop of bechamel and a sprinkle of gruyere and finally, two slices of Sweetheart Ham. Marry a plain slice of bread to each of the layered ones and form a sandwich.  In a cast iron pan, melt butter over medium heat and fry each side of each sandwich for a minute per side.  Set aside and heat vegetable oil over medium heat and fry two eggs, sunny side up for each sandwich's crown, garnish with plenty of chives, salt, pepper and a handful of compliments.  
Recipe by Kourtney Paranteau (find her online at www.cutemeatinc.com)