Recipe | Green Tomato Chow Chow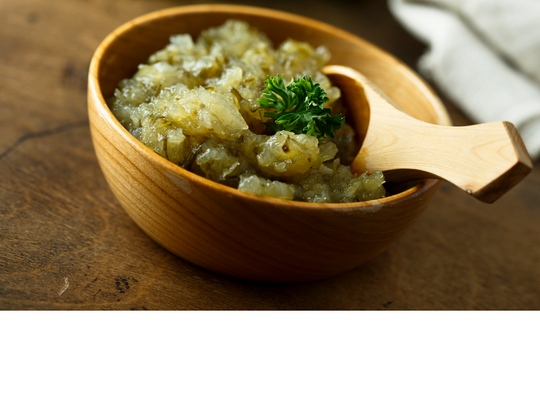 I'm not from the Deep South, but I have a lot of reverence for their cuisine, and I eat a LOT of barbecue. I wish I had this relish in my life growing up. Chow Chow is similar to Picallili but has fewer components. It's basically a sweet and sour (and, in my house, spicy) relish that's good on everything from hamburgers to hot dogs to a pulled pork sandwich. It's what you want on the picnic table at a cookout, is what I'm saying. This is a great way to use up all the end-of-season green tomatoes that don't quite make it before the weather turns sloppy. This is a preserve, and you will appreciate the memories of summer when you bring this out around the holidays; it also makes a great gift. I give a recipe here for the quantity you received in your box this week, but it scales up well. I don't really like green bell peppers, so I'm subbing the padrons. If you like, feel free to cook the corn (roast/grill/boil) and cut the kernels into this as well, and substitute the leeks for the onions. Not traditional, but will be delicious. I don't offer instructions for canning here, but if you know what you're doing, then definitely go for it!
1# green tomatoes, medium diced  
½ medium cabbage, diced
1 sweet onion, small dice (or sub one leek, whites and light green part)
1 pint padron peppers, tops removed, coarsely chopped
2 bell peppers, medium dice
4 large cloves garlic, coarsely chopped
⅓ cup kosher salt
2.5 cups cider vinegar
½ cup sugar
½ cup brown sugar, packed
2 tablespoons pickling spice, tied in a cheesecloth sachet
Combine all the vegetables in a large bowl and toss well with the kosher salt. Cover the bowl and allow to stand overnight. This pulls out a lot of the moisture, slightly softens the vegetables, and lets the flavors start to become friends. Drain the juice, rinse the vegetables, strain off the water, and return them to the bowl. In a sauce pot, combine the cider vinegar, sugars, and sachet. Bring to a boil then simmer gently for 10 minutes. Add the vegetables and return to the simmer. Cook for about 10 minutes very gently. You want the vegetables to still have a little texture… think of your favorite relish. If you are going to can them, transfer to jars and do your thing. Otherwise, remove these to a non-reactive container (I like a large mason jar with a clip-flip top lid) and allow to cool to room temperature. This will keep for a long time in your refrigerator as long as you keep the solids submerged, but (for the record) the health department says you need to eat it within a week unless you can it.