Recipe | Baked Raclette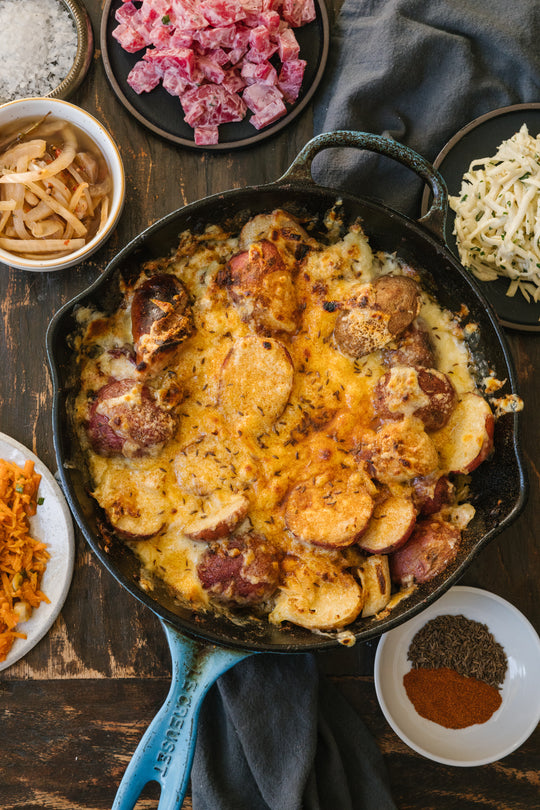 Ingredients: 
16 oz new potatoes
1 tablespoon oil or lard 
12 oz OP Bratwurst, sliced into bite-sized pieces
16 oz OP Holiday Kielbasa, sliced into bite-sized pieces 
1 small green or savoy cabbage, halved and sliced into ½" strips 
2 Tbsp vegetable oil
2 Tbsp sugar
2 tbsp apple cider vinegar
2 yellow onions, halved lengthwise, sliced ¼" thick (julienne) 
1lb raclette, grated (rind on is excellent)
1 jar of pickled onions, drained 
1 teaspoon flake sea salt, like Jacobsen or Maldon
½ teaspoon paprika 
Instructions
1. Place the potatoes in a saucepan and cover with about 2 inches of cold water and add the kosher salt. Bring to a boil over medium high heat, then reduce to a simmer and cook until tender when pierced with a knife, about 15 minutes (exact time depends on the size of your potatoes but start checking after about 10 minutes). Drain the potatoes and cool to room temperature, or refrigerate. This step can be done ahead. Once the potatoes are cooled, slice them in half and set aside.
2. Turn your broiler on high. Bring your dutch oven to medium high heat on the stovetop. Add your oil of choice (for this dish, Eli prefers lard) and, once it is shimmering, add the sliced sausages. Stir occasionally so they get well browned and start to render. Once they have browned evenly, about 8 minutes, remove them with a slotted spoon to a bowl. Add the cabbage and onions to the rendered drippings and turn the heat to high. Stir frequently, browning the vegetables until the cabbage has wilted and the onions are translucent; think "crisp tender," season to taste. Add the potatoes and sausages in the dutch oven and stir well to combine and reheat.
3. Spread the grated raclette all over the top. Place the dutch oven on the lowest/furthest rack of your oven below the broiler. Broil until the cheese is fully melted and just beginning to brown, 3-4 minutes. Remove from the oven and finish the dish by sprinkling the flake salt, paprika, and caraway seeds. Serve immediately with pickled onions on the side.