Farmers Market Finds: Eli's Take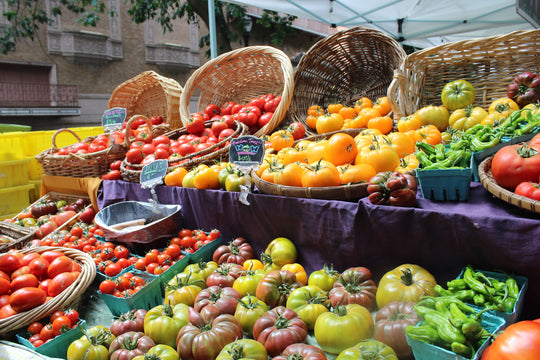 I had just stepped off the airplane after spending 5 years in Switzerland when I first experienced the Portland Farmers Market. I came from eating lake trout, fresh bread baked daily, hand-made chocolate and some of the most delicious cheese in the world every single day. So, you must understand my apprehension when it was time to make the trip back to America. My sister Michelle seems to always know how I'm feeling before I can even say it, so she picked me up from PDX and took me straight to the Portland State Farmers Market. I immediately saw Oregon's bounty. The fresh salmon, berries and cherries from the Columbia Gorge and all of the crafters that make Oregon so amazing. But what I didn't see? Salami. And that's where it all started. Brother and sister walking through the farmers market, taking in everything that this great state had to offer, and dreaming about what we could bring to the table.
We're in peak market season right now, so I wanted to share some of my favorite meat & market pairings with you. I hope wherever you are, you get the chance to get out to your neighborhood market to pick up some of the season's best. And don't forget to get your meat by mail to pair with your farmer's finds!

Best,
Elias Cairo, Co-owner and Founder

SKIP THE PROSCIUTTO
During my time in Switzerland, I learned to make Landrauchschinken, a Swiss Country Ham. And during summer time there is simply no better way to enjoy it than with some market fresh melon.
HEIRLOOMS ALL DAY
There is nothing quite like a fresh heirloom tomato during the warm months of the year. Pair it with our Finocchiona for the perfect Italian summer snack. 

EVEN MORE TOMATOES
Barely blister your favorite tomatoes in olive oil and a pinch of salt and serve them on top of a big bowl of polenta with Italian Sausage.