Recipe | Kielbasa Hash Recipe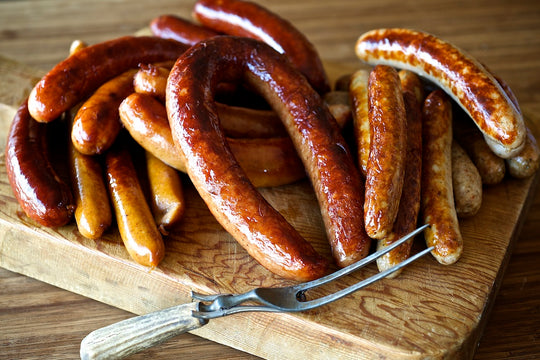 It's chanterelle season here in Oregon, and our very own production manager Josh Graves (@abe_froman_pdx) harvested a beauty of a bumper crop over the weekend. While salivating over his Instagram, we couldn't help but think...those would taste pretty fantastic in our Kielbasa Hash!
Note: Any edible mushroom will work here, but don't 
forage
 your own unless you have an expert with you. Many wild mushrooms are poisonous!
This is a hefty dish for breakfast, or a perfect lunch or dinner after you've come in from the cold.
SERVES 4
5 tablespoons (70 g) unsalted butter
2 cups (340 g) julienned white onion
3 tablespoons canola oil
2 cups (340 g) julienned white onion
3 tablespoons canola oil
2 pounds (910 g) Yukon gold potatoes, diced into 1⁄4-inch (6-mm) cubes
10 ounces (280 g) fatty bacon, sliced into lardons 
11 ounces (320 g) kielbasa, sliced into 1⁄4-inch (6-mm) coins 
81⁄2 ounces (240 g) chanterelle or oyster mushrooms, thinly sliced 
Leaves from 1 head frisée
4 eggs
Preheat the oven to 425°F (220°C).

In a small pot over very low heat, melt the butter and add the onions. Cook for 35 to 40 minutes, stirring occasionally, until the onions are completely translucent but not at all browned. Remove from the heat and set aside.
While the onions cook, in a large frying pan over medium heat, warm the canola oil. Add the diced potatoes and sear them until dark golden brown, 3 to 5 minutes. Spread the potatoes on a baking sheet and bake for 15 minutes, until tender. Set the potatoes aside.

Fill a pot three-quarters full of water and bring to a simmer over medium heat; you'll use this to poach the eggs. In the same pan you used to sear the potatoes, cook the lardons and kielbasa over medium heat for about 2 minutes, until they release a bit of fat. Add the mushrooms and cook for another 3 minutes, until the lardons are nice and rendered and the mushrooms are golden brown. Drain in a colander and set aside.

Check that the water you started heating earlier is at a rolling simmer. Crack each egg into a cup or glass to aid in slipping them into the water. Stir the water to create a whirlpool and quickly slip all of the eggs into the water. Lower the heat so the water is at a gentle simmer and poach the eggs for 3 to 4 minutes, until the whites are set but the yolk is still runny.
While the eggs are poaching, in a large bowl, toss the onions, the potatoes, and the kielbasa mixture with the frisée. Divide the hash among four bowls. When the eggs are ready, use a slotted spoon to lift them from the water; place one atop each serving.