Recipe | Honey Glazed Sweetheart Ham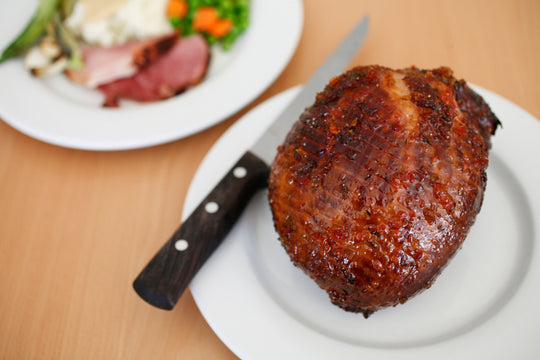 There's never any question as to the guest of honor at OP salumist, Elias Cairo's Easter feast--Sweetheart Ham, and plenty of it. While you can always slice and eat our Sweetheart Ham straight out of the box, it's particularly delicious slow-baked with Eli's favorite sweet and savory honey glaze. 
¼ cup apple cider vinegar
1 teaspoon sea salt 
½ cup honey
1 cup white wine
1 Olympia Provisions Sweetheart Ham

1. Preheat the oven to 350°F.

2. In a small saucepan over medium-high heat, bring the vinegar and salt to a boil, then stir in the honey. Remove from heat, and set aside.  

3. Pour the white wine into a Dutch oven, or any large cooking pot with a tightly fitted lid. Add the ham, put on the lid, and roast in the oven for 30 minutes. Remove the lid, brush the ham with half of the honey glaze, and cook uncovered for an additional 15 minutes. Brush the ham with the remaining honey glaze and cook uncovered for 15 more minutes. 
4. Using a meat thermometer, check the internal temperature of the ham--it should be 140°F. If additional cooking time is needed, return the ham to the oven, basting it with pan juices every 10 minutes, until the internal temp reaches 140°F. Remove ham from the oven, let it rest 5 minutes, then slice and serve.