Recipe | The OP Grinder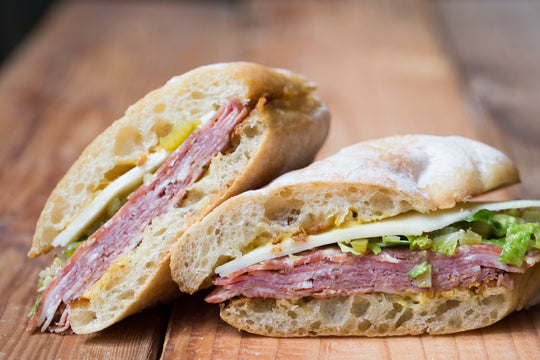 The OP GRINDER
This is an absolute and direct rip-off of the classic East Coast Italian grinder. We feel that every element of the traditional sandwich is crucial and irreplaceable/ We just bettered it by bettering the meat, and now...it's perfect.
Makes 4 Sandwiches
Italian Dressing
1/2 teaspoon (2.5 g) crushed red pepper flakes
Pinch of dried oregano
1 teaspoon (5 g) finely minced garlic
1/2 teaspoon kosher salt
1 tablespoon extra virgin olive oil
1/4 cup (60 ml) canola oil
2 tablespoons red wine vinegar
Aioli
2 large cloves garlic, degermed
Fine sea salt
2 egg yolks
1 1/2 cups (360 ml) canola oil
1/2 cup (120 ml) extra virgin olive oil
Lemon juice
Toppings
4 soft sandwich rolls
8 ounces (227 g) Capicola
8 ounces (227 g) Salami Cotto
1/2 head iceberg lettuce, shaved
4 very thin slices red onion
1 cup (150 g) sliced pepperoncini
Flaky sea salt, such as Maldon
Coarsely ground black pepper
1. Preheat the oven to 350
°F (176
°C).
2. To make the dressing, combine the red pepper flakes and oregano in spice grinder and pulse until finely ground. Add to a bowl with the garlic, kosher salt, oils, and vinegar and mix together. Transfer to a squeeze bottle. 
3. To make the aioli, using a mortar and pestle, pound the garlic with a pinch of salt until completely smooth. Scrape the garlic into a heavy ceramic bowl, add the eg yolks, and whisk to combine. combine the canola oil and olive oil in a cup with a spout and, starting a drop at a time, begin whisking the oil into the egg yolk mixture. When the aioli thickens somewhat, begin pouring in the  oil in a thin steady stream, whisking continuously, until all of the oil has been emulsified. you're looking for a nice, thick aioli here, about the same consistency as mayonnaise. If it becomes too thick add a few drops of water. Adjust the seasoning with sea salt and add lemon juice to taste.
4. To assemble the sandwiches, cut along the length of each roll, leaving one edge intact. Place the rolls in the oven and heat until war, 6 to 7 minutes. Spread a generous amount of aioli on the inside of each roll and layer capicola and salami cotto on top. Top the meat with lettuce, onion, and pepperoncini. Shake the dressing to re-emulsify, then drench the veggies with dressing and sprinkle with flaky salt and pepper. Cut the sandwich in halves, open a bag of potato chips, and enjoy.