Father's Day Pizza Party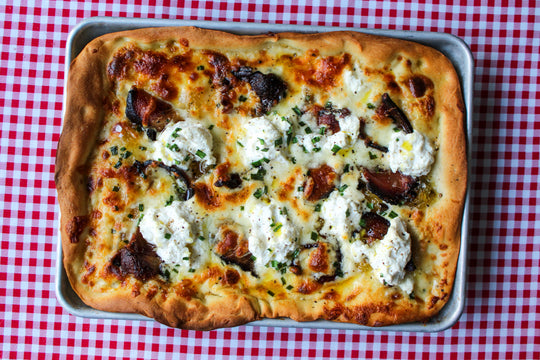 We wanted to thank the father figure in our life for their stack of Hawaiian shirts and other dad-vibe accessories with a twist on Hawaiian pizza that meets the nostalgic pizza party of their childhood with the discerning adult they grew to be.  
While the pizza itself is a breeze, the pizza's elegance derives from the homemade pineapple/jalapeño jam you'll have to make at least a day in advance.  The jam acts as a solution to the stringy, and sometimes overly wet sliced, canned pineapple lounging on a traditional Hawaiian pie and also offers up a jalapeño kick to balance out the richness of the Landrauchschinken and ricotta.  Also, can we just say Landrauchschinken on pizza is so next level, we can't believe we didn't think of this sooner! 
For the jam:
2 lb pineapple, peeled and cubed 

3 cups white sugar

1 teaspoon apple pectin 

3 jalapeño peppers, seeded and sliced 

2 teaspoon black pepper
In a large bowl mix pineapple, sugar and pectin and sit at room temperature for thirty minutes.  Transfer mixture to a Dutch oven and bring to a boil and toss in jalapeño slices, black pepper and salt stirring continually for ten minutes.  Remove from heat and run a potato masher throughout the jam until the consistency is still chunky but no large pineapple chunks remain.  Pour over a baking sheet and allow to cool to room temperature before sealing and refrigerating. The jam will keep for months in the freezer and up to three weeks in your fridge.  This bath is well over what you'll need to assemble the pizza, but the remainder makes a great gift and also amps up breakfast toasts, homemade hot pockets, oatmeals, yogurt parfaits and any other dish begging for a little zing.  
For the pie:
1 serving of pizza dough (store bought or homemade)

6 slices Olympia Provisions Landrauchschinken, cooked and torn into 1 inch pieces 

1 cup heavy cream 

¾ cup Parmesan cheese, grated 

¼ cup olive oil

½ lb fresh ricotta cheese

1 tablespoon chives, sliced 

Pinch of flake salt

Pinch of red pepper flakes 
Preheat the oven to 425°, meanwhile grease a baking sheet with half of your olive oil and gently stretch rolled out pizza dough to cover the pan and rub remaining olive oil over the dough's surface.  In a medium-sized bowl whisk cream and Parmesan cheese together and set aside.  Once the oven reaches 425°, bake the dough for seven minutes.  Remove from the oven and quickly pour cream mixture over the pie and evenly dot the pizza with ricotta, pineapple jam and  Landrauchschinken.  Return to the oven for ten remaining minutes or until the crust and cheeses turn golden brown.  Allow to cool for five minutes before serving.  Garnish with chives, salt and red pepper flakes.
Recipe by the incredible Kourtney Paranteau - you can find more of her excellent recipes here.