Recipe | Choucroute Garnie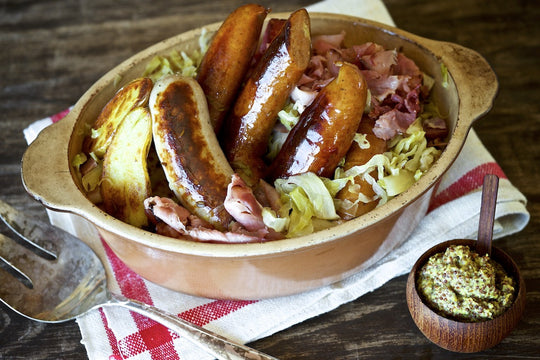 from the OP Cookbook
The Thirty Years' War, which came to an end in 1648, gave Europe the concept of a strong sovereign state and gave France choucroute garnie. With the annexation of Alsace and Lorraine, France gained important strategic and gastronomic high ground. But enough dusty history. What of the dish? Sauerkraut, cooked with bacon, stock, and dry white wine, then garnished with pork—lots of pork. I'll give you the knowledge to make all of the components on the following pages, and here you can bring them together in one grand dish. Don't forget a crisp salad and copious amounts of crisp Riesling (Albert Boxler or Dönnhoff will do nicely) as perfect accompaniments.
Ingredients
SERVES 8
2 bay leaves
10 black peppercorns
16 small fingerling potatoes
8 slices bacon, cut crosswise into thin lardons
21⁄2 pounds (1.1 kg) Kielbasa, cut crosswise 
4 Bratwurst, cut crosswise
4 Frankfurters, cut crosswise
21⁄2 pounds (1.1 kg) Sauerkraut
1 tablespoon caraway seeds, toasted
2 cups (480 ml) chicken stock
1 cup (240 ml) dry Riesling
8 (1⁄8-inch/4-mm) slices OP Sweetheart Ham 
Whole-grain mustard, for serving
Directions
1 In a medium pot, bring plenty of salted water to a boil along with
the bay leaves and peppercorns. Taste the water—you want it to be
saltier than the cooked potatoes. Add the potatoes and boil until
tender when pierced with a fork, about 20 minutes. Drain and let
cool, and then slice each potato in half lengthwise. Set the potatoes
aside.
2 In a large Dutch oven over medium-low heat, sauté the bacon
until crisp and its fat has rendered, about 20 minutes. Using a
slotted spoon, transfer the bacon to a small bowl and set aside.
Increase the heat to medium and add the kielbasa, bratwurst,
and frankfurters to the pot. Cook, stirring occasionally, until the
sausages are lightly browned, about 5 minutes. Add the sauerkraut,
caraway seeds, chicken stock, Riesling, and the cooked bacon and
stir to combine. Cook, covered, until the sauerkraut is crisp-tender
(as cooked cabbage should be), about 15 minutes. Add the potatoes
and stir in, then add the ham slices on top and continue to cook
until the potatoes and ham are just heated through, 5 to 6 minutes.
Divide the dish evenly among eight plates, and top each with a
dollop of mustard.