Recipe | Cherry Tomato, Cabbage, and Chowchow Salad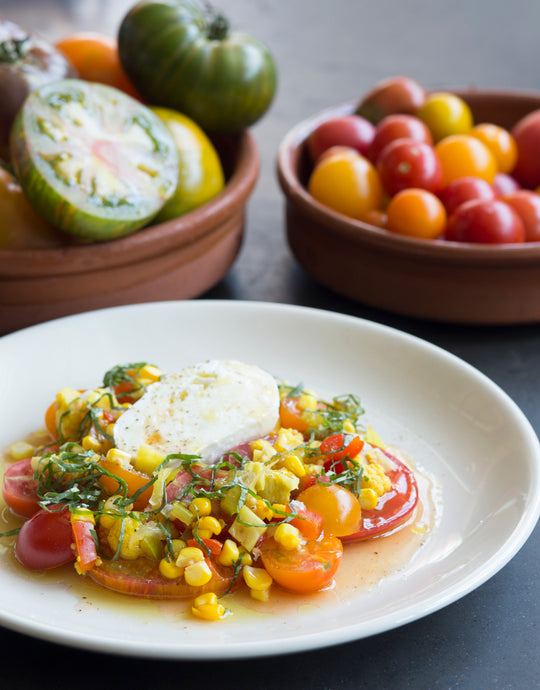 A recipe from the Olympia Provisions Cookbook. Photos by Eric Wolfinger.
Fresh buffalo mozzarella and tomatoes have been a natural pairing since the Italians mustered enough courage to eat the strange New World fruits. In this dish, the classic combination takes on new dimensions with the addition of chowchow, a quick pickle of Southern origins. Make a meal out of it by serving this salad alongside some grilled Italian Sausage. 
Ingredients
Chowchow 
1 green tomato, cut into 1/4-inch cubes
Kernels from 1 ear of yellow corn
1/8 head of green cabbage, cut into 1/4-inch squares
1/4 head of cauliflower, cut into 1/4-inch florets
1 red bell pepper, stemmed, seeded, and cut into 1/4-inch squares
1 Anaheim chile, stemmed, seeded, and cut into 1/4-inch squares
1 small zucchini, cut into 1/4-inch cubes
2 cups water
1 cup white wine vinegar
2 tablespoons kosher salt
1/3 cup sugar
2 tablespoons yellow mustard seeds
1 tablespoon sweet paprika
Pinch of ground turmeric
~
20 cherry tomatoes, halved
4 ounces buffalo mozzarella, cut into 1/4-inch slices
4 fresh basil leaves, julienned
Extra virgin olive oil 
Fine sea salt and black pepper
Instructions
1. To make the chowchow, combine the green tomato, corn, cabbage, cauliflower, red pepper, Anaheim chile, and zucchini in a shallow bowl and stir to mix. Combine the water, vinegar, kosher salt, sugar, mustard seeds, paprika, and turmeric in a small saucepan and bring to a boil. Once the mixture boils, pour it over the vegetables. Let cool to room temperature.
2. Divide cherry tomatoes between two plates, arranging in a single layer. Divide the mozzarella between the plates, laying the slices flat on top of the tomatoes. Sprinkle with the basil. Using a slotted spoon, add as much of the chowchow as your desire to each plater. Spoon a tablespoon or so of the pickling liquid evenly over each salad. Finish with extra virgin olive oil, fine sea salt, and black pepper to taste. Leftover chowchow will keep in an airtight container in the refrigerator for up to 4 days.