A MEATY STORY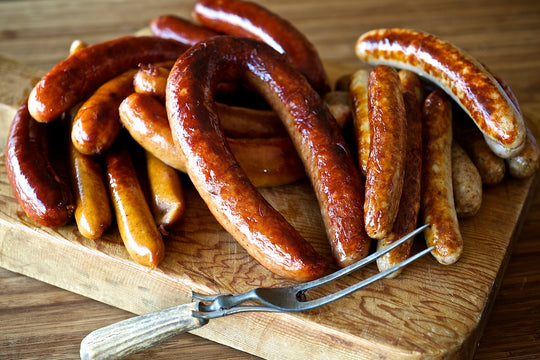 Good Food News Travels Fast...
We are always proud of our meat, but it never hurts to get some positive feedback! First, Olympia Provisions sausage was featured in the Wall Street Journal, and then OP Wurst was named one of Portland's 10 Best New Restaurants by Michael Russell and the Oregonian!

We are honored, over the moon, and in the mood to share the love - to celebrate, get 10% off your sausage order this week with the code SAUSAGESTORY  (good through 9/18).
"Olympia Provisions, the Portland, Ore., maker of first-rate charcuterie, has your Labor Day grilling covered with the Sausage Fest assortment. It includes  käsekrainer, a pork link oozing with Emmenthaler cheese; Italian sausage seasonsed with coriander, fennel and oregano; garlicky smoked kielbasa; nutmeg-spiced bratwurst; and uncured frankfurters long enough to hang out of both ends of the bun--all made using natural casings. Owner Elias Cairo recommends warming the sausages in simmering beer, then crisping on the grill or in a pan."
- Gabriella Gershenson
"The Pok Pok Dog features a lemongrass-scented Thai sausage topped with pickled green papaya and red curry ketchup, and the Portland Dog, as you might have already guessed, comes with pork belly and braisedkale. None of this works if Olympia Provisions didn't make some of America's best hot dogs and sausages, which, lucky for us, they do."
- Michael Russell/Oregonian Staff