Recipe | Celebration of Rioja: Our Patatas a la Riojana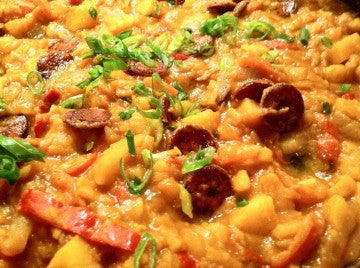 Recipe for "Patatas a la Riojana" or Potatoes Rioja Style
Serves 2-3 
INGREDIENTS:
3 Tablespoons of Arbequina extra virgin olive oil

½ Stick of Chorizo Rioja - sliced the thickness of a quarter

2 garlic cloves (minced)

1 small onion (finely chopped)

3 medium sized (about a ½ pound) Yukon Gold potatoes (peeled and cut into ½ inch cubes)

1 tsp. of Pimenton (smoked paprika)

1 tbsp. of sweet paprika

3 (about a ½ pound) Corno di Toro (sweet red peppers)

3-4 Cups of chicken or pork stock (depending on the thickness you prefer)

1 bay leaf

Scallions (bias sliced)

Salt to taste
INSTRUCTIONS:
In a pot, heat the oil. Add Chorizo until the oil has turned the color of the chorizo. Remove Chorizo and set aside. Add garlic, onions and a hefty pinch of salt to the olive oil. Cook until the garlic and onions are soft. Add the potatoes, peppers, Pimenton, sweet paprika, bay leaf, and ½ of the warm stock and stir.
As potatoes start to soften, partially beat them with a wooden spoon to get the proper consistency of a thick stew ( slightly mashed potatoes). To keep the dish to the consistency of stew add additional stock as necessary. When potatoes are fully tender, add salt to taste and add back in chorizo. Garnish with scallions and a good drizzle of olive oil. Enjoy with a glass of rioja!