Recipe | Steamed Manila Clams with Chorizo Navarre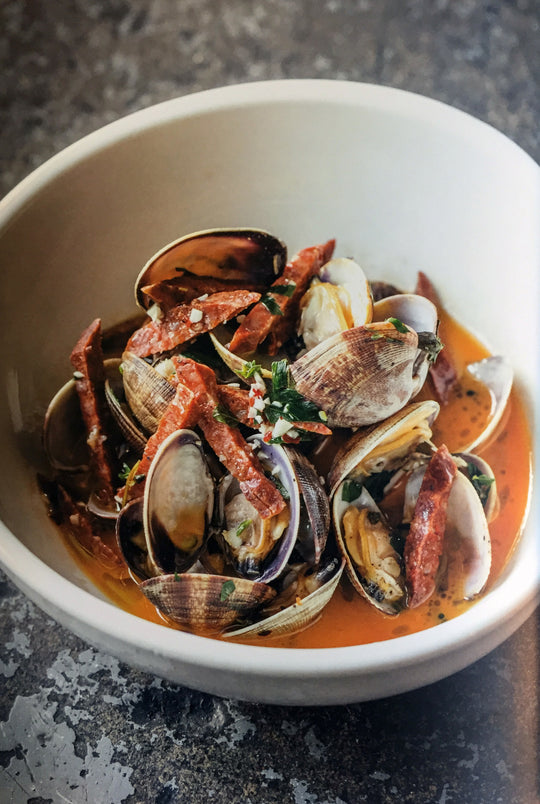 Steamed Manila Clams with Chorizo from the Olympia Provisions Cookbook.
As strange as it might seem for a city with a direct and relatively safe passage to the open ocean, Portland fights—and often loses—the battle to get our due portion of the 285-million-pound yield of Oregon's fish­eries. The purchasing power of California, Seattle, and especially Asia simply trump Portland's. This has (happily) contributed to the porcine dynasty's rise and reign over the Portland food scene and, for that, we would like to shout out a big thank you to the invisible guiding hand of the economy. But still, we do get some of the good seafood. This OP version of surf and turf is refined by the quality and freshness of the ingredients: Oregon clams, California extra virgin olive oil, and our own Navarre, the spiciest of our chorizos. Be sure to have good, crusty bread on hand, as this broth begs for dunking.
SERVES 4
1⁄4 cup (60 ml) good-quality extra virgin olive oil
5 ounces (140 g) OP Chorizo Navarre or other spicy chorizo, cut into matchsticks
1⁄2 teaspoon crushed red pepper flakes
1 tablespoon minced garlic
1⁄4 cup (60 ml) dry white wine
1 cup (240 ml) chicken stock
2 pounds (910 g) Manila clams, scrubbed and purged
4 tablespoons (60 g) unsalted butter, cut into cubes
Fine sea salt and ground black pepper
Lemon juice
4 green onions, sliced thinly on the bias
1 tablespoon coarsely chopped fresh flat-leaf parsley
Warm crusty bread, for serving
Set a pan large enough to accommodate the clams over medium heat. Heat 2 tablespoons of the olive oil and sauté the chorizo pieces in it. Soon you will begin to see the paprika and garlic-scented fat render out of the sausage. When the chorizo pieces have begun to crisp, but are not crisped all the way, remove the pan from the heat. Let cool for 30 seconds.
Add the red pepper flakes and garlic, return the pan to heat, and stir. The idea is to cook the garlic but not to let it brown in the slightest. After a minute or so, add the white wine and stock, and then the clams. Raise the heat to medium-high. Once the liquid is at a boil, the clams will start to open up. Swirl the pan a bit so that the clams cook more evenly.
When almost all of the clams are open, add the butter and continue to swirl the pan until it is melted. Taste and add sea salt, black pepper, and lemon juice as needed. Off the heat, add the green onion and parsley. Divide among four bowls. Finish with remaining 2 tablespoons of olive oil and serve with bread.
Photo by Eric Wolfinger