Sausage & Salami Maker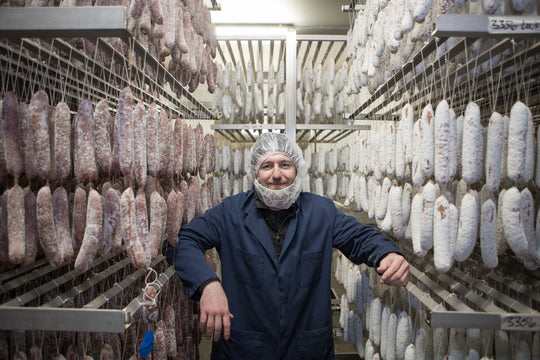 Job details
Full-time
Full Job Description
Oregon's first USDA-approved salumeria, Olympia Provisions was established in 2009 with the vision of the relentless pursuit of mastery in the craft of charcuterie with deeply rooted in rich traditions from the old world. From production to customer service, we are a passionate group of individuals obsessed with quality. We are currently seeking team members who are passionate about food, enjoy a solution-oriented approach, make safety a daily priority, and enjoy being part of a dynamic team that embraces tradition.
We have current openings in our Production department at our Southeast meat processing facility.
As a Raw Fabricator, you will deliver high-quality raw products to the fire and ferment processes according to specifications and quality. Whether cutting, slicing, grinding, chopping, mixing, stuffing, hanging, tending, storing, or cleaning, Production team members contribute to the production process by taking pride in producing the best charcuterie possible.

The schedule for this position will be Monday through Friday, 7 am to 3:30 pm with possible overtime and weekend work as production is needed.

General Duties and Responsibilities:
Processing all of OP's raw meat: this includes cutting and trimming pork shoulders, hams, and bellies; as well as stuffing and hanging sausages
Maintaining an organized and sanitary workspace
Work in accordance with HACCP plan documentation, USDA guidelines, and DOH regulations
Label batches accurately, as needed
Learn to identify quality indicators and suggesting changes to processes that will improve quality and efficiency
Actively train and learn to operate meat processing machineries such as grinder, bowl chopper, Vemag, and others
Complete daily and weekly tasks per the production schedule, communicating with leaders and leads in the department to align priorities and expectations
Assist in cleanup and finished fabrication operations if needed to meet deadlines
Knowledge, Skills, and Ability Requirements:
Demonstrates an adaptable and flexible work style, shifting tasks as priorities and circumstances change.
Self-motivated and able to work independently, as well as cooperatively within a team
Understands and can consistently follow through on verbal and written directions
Skills to work independently, effectively manage own time, and multi-task in a fast-paced environment.
Skills to adapt to the shifting priorities and needs of a retail environment
Self-motivated, with high attention to detail, quality, and presentation
Ability to reliably meet required work schedule and adhere to the company attendance policy.
Benefits:
Benefit plan including medical, dental, vision, and life insurance
PTO
Discounted Trimet Pass
Retirement Plan
Dining discounts at all of our sister establishments
Shift meal & beverage
Product discounts 
COVID19 Safety
We've established many protocols to keep our staff, customers, and vendor safe and healthy. We are looking for people who understand and appreciate the importance of social distancing, extra sanitation steps, and wearing face masks.
Work Environment:
The majority of this work is performed inside a walk-in refrigerator at approximately 40 degrees Fahrenheit. While performing the duties of this job, the employee can be exposed to fumes or airborne particles, moving mechanical parts, and vibration. The floors can be slippery. The noise level in the work environment can be loud.
Physical Demands:
Knife skills or the willingness to learn knife skills is a requirement. The employee is occasionally required to sit; climb or balance, and stoop, kneel, crouch, or crawl. The employee must frequently lift and/or move up to 25 pounds and occasionally lift and/or move up to 75 pounds with the help of lifting equipment, often in a cold, refrigerated environment. Specific vision abilities required by this job include close vision, distance vision, color vision, peripheral vision, depth perception, and ability to adjust focus.

Olympia Provisions is committed to providing equal employment opportunities for all employees and applicants. It is our policy that decisions involving people are made on the basis of job-related criteria, independent of an individual's gender, race, color, national origin, age, religion, marital status, sexual orientation, military or veteran status, physical or mental disability for which reasonable accommodation is available, and any other status protected by law. This includes decisions involving hiring, job placement, transfer, promotion, compensation, benefits, training, and company-sponsored programs. Olympia Provisions maintains formal employment policies, available online and by request.