Sanitation Technician I - Day Shift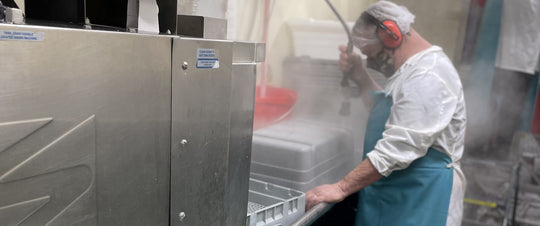 Job details
Starting at $15 an hour
Full-time

Full Job Description
As Oregon's first USDA-approved salumeria, Olympia Provisions was established in 2009 with the vision of the relentless pursuit of mastery in the craft of charcuterie with deeply rooted in rich traditions from the old world. From production to customer service, we are a passionate group of individuals obsessed with quality. We are currently seeking team members who are passionate about food, enjoy a solution-oriented approach, make safety a daily priority, and enjoy being part of a dynamic team that embraces tradition.
We have current openings in our Sanitation department at our Southeast meat processing facility.
Being part of the Sanitation Department, you will join a team that prides itself on the responsibility of ensuring that our sanitation standards are met on a daily basis across all equipment, process, and work areas. You will be part of a team that takes pride and ownership in ensuring equipment and facility are effectively sanitized in accordance with established food manufacturing regulations and in compliance with USDA. You will perform cleaning and sanitation duties for multiple departments under time-sensitive conditions.
The schedule for this position will be Monday-Saturday from 6:00 am - 2:30 pm.
General Duties and Responsibilities:
Pre-spray and load dishes/equipment into the dish machine.
Manually wash equipment in a triple sink using the three-stage method.
Manually wash large items using chemical mixing stations, scrub brush, and water hose.
Dry, inspect, and return clean equipment to their respective areas.
Maintain a separation from clean and dirty processes.
This job description reflects the position's assignment of essential functions; it does not prescribe or restrict the tasks that may be assigned
Knowledge, Skills and Ability Requirements:
Experience with the using of sanitation tools and chemicals, food safety, and the safe operation of standard sanitation equipment
Maintain an orderly and clean work area in compliance with the safety and sanitation requirements
Use of cleaning chemicals and safe handling practices
Basic math skills of addition, subtraction, multiplication, and division
Experience carrying out independent tasks as well as working in a team setting.
Benefits:
Benefit plan including medical, dental, vision, and life insurance
PTO
Discounted Trimet Pass
Retirement Plan
Dining discounts at all of our sister establishments
Shift meal & beverage
Product discounts 
COVID19 Safety
We've established many protocols to keep our staff and customers safe and healthy. We are looking for people who understand and appreciate the importance of social distancing, extra sanitation steps, and wearing face masks.
Work Environment:
The majority of this work is performed inside a wet/humid dishwashing room. While performing the duties of this job, the employee is frequently exposed to fumes or airborne particles, moving mechanical parts and vibration. The floors can be slippery. The noise level in the work environment can be loud.
Physical Demands:
Knife skills or the willingness to learn knife skills is a requirement. The employee is occasionally required to sit; climb or balance, and stoop, kneel, crouch, or crawl. The employee must frequently lift and/or move up to 25 pounds and occasionally lift and/or move up to 75 pounds with the help of lifting equipment, often in a cold, refrigerated environment. Specific vision abilities required by this job include close vision, distance vision, color vision, peripheral vision, depth perception, and ability to adjust focus.
Olympia Provisions is committed to providing equal employment opportunities for all employees and applicants. It is our policy that decisions involving people are made on the basis of job-related criteria, independent of an individual's gender, race, color, national origin, age, religion, marital status, sexual orientation, military or veteran status, physical or mental disability for which reasonable accommodation is available, and any other status protected by law. This includes decisions involving hiring, job placement, transfer, promotion, compensation, benefits, training, and company-sponsored programs. Olympia Provisions maintains formal employment policies, available online and by request.