Recipe | Charred Delicata Squash with Smoked Mushroom Puree and Crispy Parsnips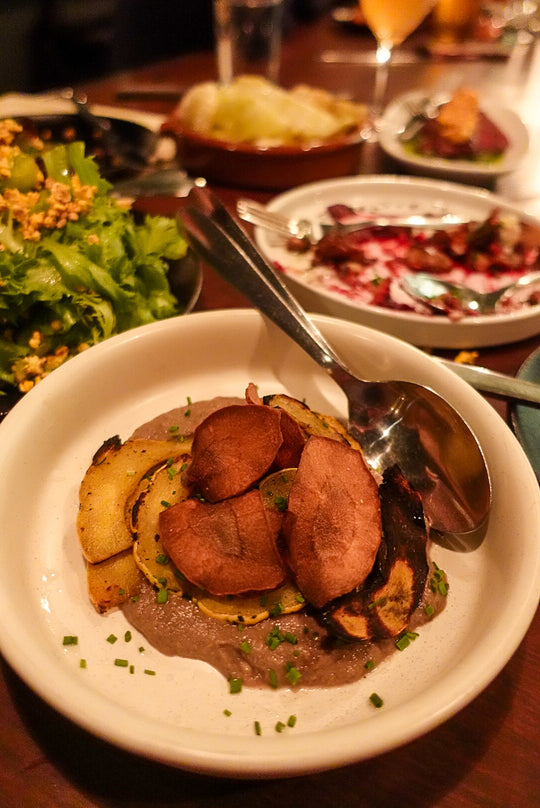 1 delicata squash
1 cup wood chips for smoking
2 # cremini mushrooms
3 shallots, peeled and sliced
3 cloves garlic, peeled and sliced
1 parsnip
2 TBS sherry vinegar
Juice of one lemon
Blend oil
Salt
Light a fire in your bbq, or light a smoker.  Soak the wood chips in some water.  Cut the crimini mushrooms in half and toss with a little blend oil and salt.  When the BBQ or smoker is ready, add the chips and wait until a nice amount of smoke is coming up.  Place the mushrooms on a rack, grill basket or other kind of perforated holding pan.  Smoke the mushrooms for 10 minutes.
________
Sautee the shallots and garlic in a little oil for a minute or two, then add the mushrooms.  Cook for about 4 minutes until the mushrooms release their water.  Place the mushroom mixture into a blender, add the sherry vinegar and 1/2 of the lemon juice.  Add a little water to give the mixture enough liquid to spin.  Turn the blender on high and puree the contents while adding a little more blend oil.  Add salt and more lemon juice if it needs more brightness, and more water if it's too thick to puree.
Cut the delicata squash in half and scoop out the seeds.  Slice the delicata into half moons using a mandolin set at 1/8" thickness.
Peel the parsnip and slice using the mandolin into rounds a little thinner than 1/8".  Heat enough blend oil to cover 1/2" deep of a heavy bottomed pot.  When the oil is hot enough, fry the parsnip chips until they turn golden in color.  Strain on a paper towel and toss in a little salt.
To pick up: warm 1/3 cup of smoked mushroom puree into a saute pan.  Place a handful of squash into a grill basket with a little oil and salt.  Grill or saute over a burner until the squash is charred and cooked through but still firm.  Place the mushroom puree in the bowl you plan to serve the dish.  Top that with the delicata squash, and top that with a small handful of parsnip chips.